Irish women are staging a nationwide strike to protest the country's extreme abortion ban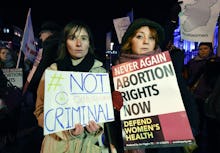 Irish women are going on strike for their rights.
In the Republic of Ireland, having an abortion is a crime punishable by up to 14 years in prison — which means that women who must travel to the U.K. to access a safe, legal abortion, even in cases where the fetus has a "fatal abnormality," the Independent reported.
So women and allies who support abortion rights are organizing a nationwide strike, scheduled for March 8, to protest the ban on safe and legal abortion. They're calling for the Irish government to hold a referendum on the 8th Amendment, a constitutional clause that grants fetuses "the same citizenship and rights as a pregnant woman," the Independent reported.
Ireland's 8th Amendment can only be repealed if a referendum finds majority support — but the government has "repeatedly failed" to hold the referendum.
The planned strike is a way of demanding action from the government, according to organizers. Participants are being asked to take a day off work, close their businesses if they own them and "withdraw" any domestic labor they'd normally do, according to an official "Strike 4 Repeal" Facebook event page.
"We encourage everyone to come up with their own ideas for participation on the day ... Every person who has an abortion has to take at least a day, whether to travel or stay at home. Use this day to stand in solidarity with them, and demand change."
The strike is inspired by a similar action in Poland in October, when thousands of women and allies demonstrated in the streets, protesting against the Polish government's proposed abortion ban. After the massive demonstration, lawmakers rejected the proposed ban.
Abortion rights advocates in Ireland hope a similar strike could have the same effect on their own government.
"We call upon the government to take direct responsibility for what is a violation of human rights," organizer Aoife Frances said in a press release posted to the Strike 4 Repeal Facebook page. "We believe a national strike is not only possible, but an incredible opportunity to show the sheer power of our movement, and to put pressure on the government to call a referendum. In the past five years, support for repeal has grown to a level that the government can no longer ignore."