'Grey's Anatomy' Season 13 Recap: What happened in episodes 1 through 9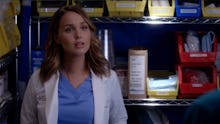 The Grey's Anatomy midseason premiere originally slated for Jan. 19 was delayed thanks to a 20/20 special on Donald Trump and his family. With America's First Family: The Trumps Go to Washington airing, that meant no news on Alex and Meredith. Naturally, the schedule change befuddled Shondaland fans. So when does Grey's Anatomy return? The show will air on ABC on Thursday, Jan. 26, at 8 p.m. Eastern. That's right — TGIT is back.
Episode 10 ("You Can Look But You'd Better Not Touch") will focus on Bailey, Arizona and Jo treating a pregnant prisoner.
Because it's been a while since the Grey's fall finale aired in November, here are recaps of the season's happenings thus far:
Episode 1 ("Undo")
Alex beats up DeLuca so badly that he ends up in the hospital — their hospital. The reason? He says it's because he thought DeLuca forced himself on Jo. The doctors rush in to help and, for a little while at least, the fact that Alex is responsible stays on the down-low. After all, Alex is the one who takes him to the hospital and starts treating him. 
Meredith leaves Amelia and Owen's wedding to see what happened and keeps Alex updated on DeLuca's status. Meanwhile, Maggie stands by DeLuca's side, even though the two have broken up. 
The big question looming at the end of the episode is, will Alex go to jail for assaulting DeLuca? Viewers also learn that April and Jackson's new baby is named Harriet (and that April and Jackson's mom still aren't getting along.)
Episode 2 ("Catastrophe and the Cure")
Alex learns that he's been charged with felony assault in the second degree, which distracts him to the point that it affects his work performance. Unsurprisingly, Joe doesn't want to be with him anymore and Bailey no longer wants him to work at Grey Sloan. All of the hospital staff gets caught up in DeLuca v. Karev — except for Maggie, who's busy crushing on Nathan. She decides to ask him out at Amelia and Owen's housewarming party. When Meredith finds herself in an elevator with DeLuca, she makes the mistake of trying to get him to see things from Alex's side. DeLuca ends up feeling threatened and tells Bailey about it.
In non-Alex news, April's incision reopens, so she can't go home with baby Harriet. Jackson tries to comfort her by FaceTiming and giving her a chance to sing Harriet to sleep. Richard encourages him to offer April help and he does. He asks her to move in with him until she's better. 
Mer and Bailey end up fixing a mistake Alex made while he was flustered over his case. Toward the end of the episode, Meredith tries to get a laugh out of Alex by saying she had sex with Nathan in her car. Maggie comes home just then and says that Nathan turned her down at the party. But she still has hope.
Episode 3 ("I Ain't No Miracle Worker")
A patient, Georgia, is declared dead only to come back to life. It turns out there's family drama with her estranged daughter — drama exacerbated by a major car accident on the way to her husband's funeral. 
Maggie still hasn't recovered from Nathan's rejection and Meredith still feels guilty about getting involved with him. She tells Maggie to forget about Nathan and tells Nathan to go on a date with Maggie but be terrible company. Maggie realizes her sister is acting off, but doesn't figure out that it's because they like the same man.
Arizona comes back after a trip and finds herself caught between Alex and DeLuca. She tells DeLuca that though she's close to Alex, she's angry at him for what he did. Alex knows she's mad and isn't faring well at the clinic.
Episode 4 ("Falling Slowly")
Alex is unhappy working at the clinic. When he's assigned a patient named Emma, he accidentally dislocates her shoulder and ends up diagnosing her with Ehlers-Danlos syndrome. He stays around to ensure that she's properly diagnosed, but that means missing a critical appointment with his lawyers. 
Owen and Amelia, meanwhile, are struggling in their relationship because of differing religious beliefs. What will they teach their children about God? Jackson and April aren't getting along either, but ultimately decide to continue living together. 
Meredith is still caught in a love triangle Maggie doesn't know about. The tension between Meredith and Nathan causes them to fight over a patient. In the end, they agree to stop seeing each other. 
Episode 5 ("Both Sides Now")
Bailey and Meredith both have patients who need liver transplants. Bailey's patient is an older woman who's been on a wait list for three years, while Meredith's is a young woman who could die within the next 24 hours if she doesn't get a new liver. They argue over who needs the liver more. The older patient won't put the younger patient's needs first and insists on getting what she's been waiting for. A surprise second liver shows up to save the day.
Maggie's patient, Astronaut Andy, dies during heart surgery and Maggie has to remind her resident to find the silver lining. 
When Amelia's period is late, she thinks she's pregnant. She worries about telling Owen the news and tells Meredith about it. Meredith can't believe that she won't just take a pregnancy test. We discover that Amelia previously gave birth to a child without a brain — and Owen doesn't know about it. When Amelia does take a pregnancy test, she's relieved to find out she's not pregnant.
Episode 6 ("Roar")
Amelia's having a bad day after her pregnancy scare and a difficult emergency room case only worsens it. She ends up losing a 12-year-old boy on the table. That's when she tells Alex she didn't want to have another baby. 
Murphy, a former intern at the hospital who slept with both Alex and Arizona, comes back. Webber has given her another chance and she tells Maggie that she wants to work under her tutelage. 
Avery's mom tells Bailey to fire Alex and says that she's too lenient. Bailey isn't pleased. While Alex is standing in line at the courthouse, he meets a pregnant woman with a rash on her hand. He tells her to come to the clinic where he works. He ends up diagnosing her with pancreatic cancer. Alex asks Bailey to come down to the clinic and the two disagree over how to proceed. Still, Bailey is reminded that Alex is a good doctor who cares about his patients. 
Bailey tells Mama Avery she's not firing Alex, which Catherine accepts, but she says the residency program needs to be reworked. This means having a difficult talk with Avery's husband. 
Episode 7 ("Why Try to Change Me Now")
A new hospital consultant named Eliza makes the staff nervous. They're all wondering who's going to get fired or demoted. Alex thinks the consultant has been hired because of him, since he beat up a resident. 
Eliza asks the residents tough questions about the staff. Richard presses Andrew about the meeting, but he won't talk. Eliza offends Meredith in the ER and Meredith asks Richard to get rid of her. Maggie stumbles across Eliza's notes and learns that the residents ranked her at the bottom of all the attending physicians.
Richard asks Bailey to tell Eliza she overstepped, but she won't do it. Webber feels threatened; Bailey says they must accept change. During a difficult surgery, Murphy asks Maggie to slow down so she can learn better. Eliza pushes Murphy to get hands-on, but Murphy ends up tapping out when she gets nervous. Richard gets mad at Eliza for putting a patient at risk.
Arizona, Maggie and Nathan also learn that April is on Tinder. When she and Jackson end up talking about dating, he encourages April to be bold. Amelia tells Owen she doesn't want to have a baby and she goes to Meredith's house. We also learn that Eliza's list wasn't a ranking and that Eliza may be interested in Arizona — which could lead to something because she may be coming to work at Grey Sloan full-time.
Episode 8 ("The Room Where It Happens")
Meredith, Owen, Stephanie and Richard are working a late-night surgery when Richard tells Stephanie to create a character for the patient on the table. This evolves into a compassion game of sorts as the group builds up an imaginary identity for the patient. Flashes of the character they design accompany the surgery performed by the sleep-deprived doctors. Owen pictures the patient as his sister, while Stephanie thinks about her younger self. 
The character that Richard comes up with turns out to be his mother, who died from cancer. A nurse walks in to say they found the real patient's next of kin: his two young children.
Ultimately, the patient ends up living. Meredith says playing the game helped.
Episode 9 ("You Haven't Done Nothin'")
Meredith and Alex are talking about Alex's upcoming trial when a building collapses in front of them. While doctors jump to help the survivors, Jo worries about being called as a witness in Alex's trial. She doesn't want to use her real name because she fears her abusive husband will track her down.
One of the victims is the landlord of the building that collapsed. He calls for a priest and Ben poses as one. The landlord says he knew that the building suffered from earthquake damage but didn't do anything about it for more than a year. The parents of one of the victims overhear the doctors talking about it and get angry. Their young daughter dies and the mother attempts to kill the landlord by cutting off his oxygen.
Meanwhile, Eliza accidentally tells Richard she will essentially be replacing him. Maggie rushes to defend her father and Bailey admits that Richard will be stepping back in his role. Richard is relieved when his former students express their outrage.
Jo tells Alex that she's married. She also says that she didn't tell him when he proposed because she was afraid he would beat up her abusive husband and end up in jail. Alex tells Meredith he's taking the plea deal so Jo won't have to testify. Meredith leaves him a voicemail while he's waiting to enter his plea: She won't be the last of the original interns left standing. And thus the fall finale ends with a cliffhanger.