Who is hosting the 2017 Oscars? 7 things to know about Jimmy Kimmel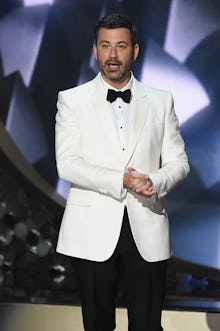 While you're getting caught up on this year's Oscar nominees, the historic nominations and the biggest snubs, you can also get to know this year's Oscar host, Jimmy Kimmel. 
The ABC late night host is presiding over this year's ceremony for the first time and Kimmel says he's more than ready for the challenge — even if some people don't know he's hosting.
The origin story 
Kimmel was born Brooklyn, New York, on Nov. 13, 1967. He is 49 and is married with three kids. 
Who's he married to?
Kimmel was married to his first wife, Gina Maddy, until their divorce in 2002. They have two children together, Kevin and Katherine. After dating Sarah Silverman for several years, Kimmel remarried to Jimmy Kimmel Live! co-head writer Molly McNearney in 2013 and the two have a daughter together. McNearney is pregnant with their second child. 
Kimmel's long TV history
Before the success of Jimmy Kimmel Live! Kimmel started out as the co-host of Comedy Central's popular The Man Show. Kimmel was also the co-host of Win Ben Stein's Money, alongside Ben Stein. He's been the host of Jimmy Kimmel Live! since 2003. 
What's he hosted before?
The Oscars won't be Kimmel's first job as host. He's previously hosted the Emmy Awards in 2012 and most recently in 2016, where he had a great opening monologue:
He's really nervous to host the Oscars
In an interview with the Wrap, Kimmel discussed his fear over not doing a great job hosting this year's 89th Academy Awards. "I'm a ball of anxiety — I don't get excited for anything other than fishing but I want to do a good job and as a result of that, I think about it all the time," Kimmel said. 
Kimmel will be making changes right up until the big night
Kimmel said he won't be done editing or finalizing his hosting duties until Oscar night. "I won't be done with that until probably 4:15 p.m. on Oscar Sunday," he said to the Wrap. "I make changes right up to the last second, depending on how I feel in that moment."
When is Jimmy Kimmel hosting the Oscars?
The 89th Academy Awards airs at 8:30 p.m. Eastern on Sunday, Feb. 26, on ABC.