#OscarsSoWhite creator April Reign on 2017 Oscars noms: "There's still a lot of work to be done"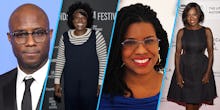 As usual, the Academy Award nominations were full of snubs and sure things on Tuesday morning. But while every Oscar nomination ceremony brings with it its own series of smiles and frowns, the 2017 nominations resonated deeply with those who have been advocating for greater diversity of representation and experience. 
The 2017 slate of acting nominees, the most diverse in a decade, boasts new records and historical achievements for people of color: Viola Davis earned a historic third Oscar nomination, three black actresses dominated the supporting actress category and Dev Patel became the third Indian acting nominee ever.
Chief among advocates for more diversity in awards shows has been April Reign, the creator of the #OscarsSoWhite hashtag. Reign spoke with Mic on shortly after the nominations were announced about what most excited her and why the work toward diversity is far from over. She said that just as important as the on-screen love is the achievements of those involved in the filmmaking process.
"Best actors, actress, director and best film usually get all the buzz, but I'm really much more energized by what's happening behind the scenes," Reign said in a phone interivew. "Those categories are just as worthy of recognition." 
Barry Jenkins became the fourth-ever black director nominee. Screenwriters of color — including August Wilson for Fences and Barry Jenkins and Tarell Alvin McCraney for Moonlight — were nominated for adapted screenplay. Reign said she was "especially encouraged" by the nomination of Bradford Young, the first black cinematographer to garner an Oscar nomination and Joi McMillon, the first black woman to be nominated for editing.
Reign said that these off-camera nominations are essential to the spirit of #OscarsSoWhite.
"It's about making sure the entire process from who gets to tell to the story to how it its told is more inclusive than it has been in the past," Reign said. "As the song says, 'a change is gonna come.' I really think that this speaks to when you provide more opportunities, the talent will rise to the top. I think we're seeing that this year."
When it comes to on-screen talent, Reign praised the diversity of roles nominated for acting awards this year, and called out what she felt was "slave fatigue" among black moviegoers. Prior to this year's slate of nominees, movies about the black experience included films like 12 Years a Slave and The Help, which, while high quality, portrayed black people in the same stereotypical roles they've been stuck playing for years. 
Reign pointed out that Hidden Figures, Fences and Moonlight — all centered on the black experience in America — cracked the best picture field this year.
But, just because this year's nominations featured many black nominees, that doesn't mean that the work of #OscarsSoWhite is over. In fact, it's just beginning. Reign said she still wants to see other groups' stories reflected in Hollywood: stories about Native Americans and the Trail of Tears, Asian Americans in internment camps, LGBTQ romantic comedies, and more. 
"There's still a lot of work to be done and that's why #OscarsSoWhite remains relevant," Reign said. "It was never supposed to be just about race, or even just about black women. I can think in multitudes, and I think we all should."