The "future of porn" smells like cod liver oil, rotting fish, swamp crotch and chocolate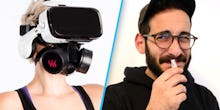 The latest attempt to disrupt self-pleasure succeeds only in helping you strengthen your gag reflex.
Adult webcam platform CamSoda wants you to strap a gas mask to your virtual reality headset to funnel in a hodgepodge of "sensual aromas" to complement the porn you're watching. The contraption, dubbed OhRoma, includes two canisters with three cartridge slots where consumers can insert the scents of their choosing. There are 30 different combinations, including but not limited to aromas titled "private parts," "body odor," "fragrances," "panties," "aphrodisiacs" and "breath," per the press release. 
CamSoda sent Mic a sample scent of "private parts." 
The tiny vial contained liquid the color of watery urine. Sadly, I had no porn gas mask to fill, so I had to spritz and sniff.
So what does the future of porn smell like? We had a number of co-workers take a blind smell test to find out. Would they gently drink in a lungful of synthetic groin juice and be flooded with rosy memories of boinking? 
Two employees correctly guessed "vagina," but most missed the mark. Here are the rest of the guesses:  
"A musty book"
"Dirty socks"
"Baby powder with floral notes"
"Wet dog"
"Chocolate"
"It smells old"
"Soap"
"A natural health food store"
"Baby powder... maybe babies' butts"
"Swamp crotch"
"Rotting fish"
"Mildew"
"Cod liver oil"
"The old apartment I had in San Francisco"
If fastening hardware to your face while a potpourri of man-made butt perfume wafts into your nostrils sounds like a recipe for orgasm, the future is very bright for you, my friend.