Kim Kardashian West is reportedly thinking about selling Kimoji merch in stores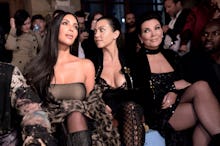 The Kardashian-Jenner clan is clearly trying to take over the retail world. Khloé Karashian has her own line of jeans. Kylie Jenner has those lip kits. Kendall Jenner had that swimsuit line at PacSun. Kanye West has, of course, Yeezy. And now it looks like Kim Kardashian West is looking into having her collection of Kimoji merchandise sold in stores. 
According to a report from Women's Wear Daily, Kardashian West is mulling the idea of selling her apparel and accessory collection based on her Kimoji illustrations, which include things like an iPhone case covered in an illustration of her butt, in stores. 
Accordingto WWD, Kardashian West has filed the necessary documents to sell her brand at retail, meaning that a sweatshirt with Kim's derrière printed all over it could very well be hanging in a shop by you sometime soon. 
Although there's no word yet on what stores could be involved, Kardashian West does have Dash, which was launched by her and her two sisters, Khloé and Kourtney. There's also the possibility of a pop-up Kimoji shop. Her sister, Kylie, found success with a pop-up shop to sell her makeup and her husband, Kanye West, had a pop-up shop for his Yeezy line. 
Over on Kardashian West's website, there's some merch already, from phone cases to chokers to hats to earrings. 
Even Kanye West has outed himself as a fan of the collection, spotted with an air freshener in his car that looks a lot like the Kimoji of Kim crying (That air freshener is currently out of stock.)
With this announcement, it appears as though not only is Kim Kardashian West back in business, but she's ready to further expand her impressive empire and maybe invade your mall too.