Syd debuts "Body," the queer "baby maker anthem" of 2017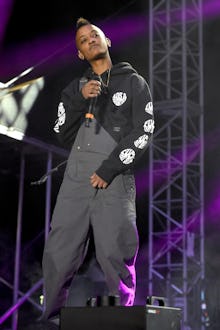 Syd is slowly, subtly welcoming listeners into what might be one of the most unexpectedly vital releases of 2017. 
The singer and producer, formerly known as Syd tha Kyd, frontwoman of the band the Internet, has her debut solo album, Fin, arriving Feb. 3. Tuesday she unveiled its second single, "Body" on Zane Lowe's Beats 1.
"This is my baby maker anthem," Syd said of it in an interview before the song's premiere. "I want this to be the baby maker of 2017." She has it right. With her breathy vocals Syd makes a sultry and tender suggestion to another woman that they "take it slow" and wring every ounce of sensuality from their connection.
Syd previously announced her coming solo project by releasing "All About Me," a wobbling trap R&B track that served as a mission statement for the project. "You preach bout revolution and dreams, I really do this," she raps. "I lead by my example, I see fame as a nuisance/ I don't take it for granted but god dammit."
At a time when queer bodies are more at risk than they have been in years, the new track is more than just another innocent love song. How could a connection as pure and breathtaking as the one Syd sings about possibly be worth demonizing? It will be a fitting addition to any and all future queer dance protest playlists, like the one WERK for Peace and DisruptJ20 hosted outside Mike Pence's house the week of the inauguration.
Break out the champagne and rose petals and toast to the bodies worth protecting and taking it slow with over the next four years. Listen below.