Who is Ruth Negga? 6 things to know about the Oscar nominee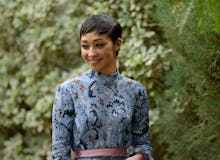 Ethiopian-Irish actress Ruth Negga received her first Oscar nomination Tuesday for her performance in Jeff Nichols' movie Loving. The critically acclaimed film, in which Negga co-stars with Joel Edgerton, chronicles the legal battle of Richard and Mildred Loving, an interracial couple in 1950s Virginia. Loving v. Virginia, their civil rights case, was ruled on by the Supreme Court in 1967. 
Negga plays Mildred, a role that has propelled her into the national spotlight, earning a Golden Globe nomination for best performance by an actress in a motion picture drama and a BAFTA nomination for the rising star award. But Negga is hardly a newcomer to the industry, having worked onstage and screen for more than a decade. 
Read on to learn about the actress whose name is now on everybody's lips. 
She's lived all over the world 
Negga was born in Ethiopia and fled to Ireland with her mother at age 4. She studied drama at Trinity College Dublin and moved to London in 2006. 
She's an action star 
Loving has been described as a quiet film, and Negga's performance has been praised as subtle and nuanced. But Negga isn't afraid to get athletic onscreen. Some of her credits include the comic adaptation Preacher, the action horror film World War Z, the Marvel series Agents of S.H.I.E.L.D. and Warcraft: The Beginning. 
She had a showmance with Dominic Cooper 
Negga first met her longtime boyfriend Dominic Cooper while rehearsing for a play at the National Theatre in London. The two took their romance to TV and film, having co-starred in Warcraft and Preacher. 
She was a boundary-breaking actress onstage
Negga was the first black woman to play Ophelia in Hamlet at London's National Theatre. Director Nicholas Hytner spoke of her "wonderful transparency," and critics praised her performance as "sexy" and "fragile" as well as "feisty." 
She thinks diversity in film is important 
"We need to recognize that people have a real need to see themselves reflected in art and that art has to reflect everybody and not just the few," she told Metro UK about #OscarsSoWhite. "I think that conversation is being had and it is super important and I am glad we're part of this conversation."
You can't find her on Snapchat 
"I'm still not on social media," Negga recently told CNN. "I couldn't tell you what Snapchat was if it came up and bit me on the nose."
Mic has ongoing Oscars coverage. Please follow our main Oscars hub here.