When are the 2017 Oscars? Here's the date and time for this year's Academy Awards.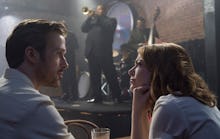 The 2017 Oscar nominees were announced Tuesday morning, and it was the most diverse collection of nominations in years. 
With just a few weeks left before the big night, there's still time to get caught up on all the nominated movies you may have missed. But the big question is — when exactly are the 89th Academy Awards, and what time do they start? 
Date and start time of the Oscars 
The Oscars will air live on ABC at 8:30 p.m. Eastern on Sunday, Feb. 26. This year's ceremony will be hosted by Jimmy Kimmel. The red carpet typically starts at 7 p.m. Eastern on ABC, so make sure to tune in then if you want to see all the fashion.
This year's nominees have a lot to celebrate: Dev Patel just became the third ever Indian actor to receive a nomination, Viola Davis broke a record for the most nominations for a black actress and La La Land earned 14 nominations — the most nominations for a single film this year, tying Titanic and All About Eve for the most nominations ever.