Don't cry for Amy Adams. She'll win her next Oscar race.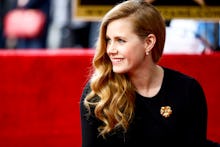 If there was one actor who had a right to feel thoroughly snubbed Tuesday morning, it was Arrival star Amy Adams. 
Sure, Annette Bening should've been recognized for her best-of-year work in 20th Century Women. Yes, Aaron Taylor-Johnson and Emily Blunt had reason to think they might get nods. But none of them earned Golden Globe, Screen Actors Guild and Critics Choice award nominations like Adams did. None of their films appeared on the list of best-picture nominees like Arrival, either.
Everything was set for Adams to earn her sixth Oscar nomination, but she was somehow blanked. Don't cry for her, though — this sets her up perfectly to win next time around.
Adams had quite the year in 2016, between her turns in Arrival and Nocturnal Animals and endearing herself to the American public via song. For her to not get nominated after a year like that is bound to inspire puzzlement and anger on her behalf. It certainly did online, to say the least.
Arrival director Denis Villeneuve, who earned a nod for best director, used his nomination reaction statement to express his dismay that Adams was snubbed. "Amy Adams is the soul of Arrival, so I'm profoundly sad she did not get a nomination this morning," he said.
This is not the kind of snub that is easily forgotten. This is the kind of snub people will remember when Adams has another awards-friendly movie in theaters. Don't take her for granted, critics will argue. She's overdue, pundits will cry. That perception matters.
If Adams had been nominated but not won, she wouldn't be the beneficiary of such a groundswell. As it is, she wasn't likely to beat Emma Stone. But for her to not be included at all sparks a big reaction. Arguably, Enchanted was Adams' last film for which her performance deserved to be nominated but wasn't. She followed that up with four quick-earned nods for other films. What will this snub inspire?
Looking ahead, Adams has three major projects ahead: the TV adaptation of Gillian Flynn's Sharp Objects, which will almost certainly place the actress in Emmy contention; the Enchanted sequel; and Justice League, in which she will once again play Lois Lane. True, that's not exactly a lineup to inspire Oscar attention. But pay attention to the moves Adams makes in the coming days. The right project could put her right back into Oscar contention come 2019. 
While that seems a long time from now, the memory of her snub will remain strong. The Oscar is not going to elude Adams forever. With five previous nominations, she's certainly a favorite of the Academy of Motion Picture Arts and Sciences, and she's increasingly an audience favorite, too. Adams will be back in the race — next time, for the gold.