This pizza chain is making an #AlternateFacts pizza inspired by Kellyanne Conway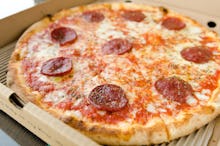 On Sunday, Kellyanne Conway claimed that lies about the size of President Donald Trump's inauguration crowds were merely "alternative facts." By that night, her newly coined phrase was a full-on meme. 
And now, a food-court pizza chain is the latest to join the roasting by offering a new #AlternateFacts pizza — a pie that's loaded with toppings and also "zero-calorie" (wink wink).
Villa Italian Kitchen, a pizza chain with more than 300 U.S. locations, announced the #AlternateFacts pizza on its Facebook page Tuesday. 
It might sound too good to be true, but Villa Italian Kitchen has announced the #AlternateFacts pizza, a zero-calorie six-slice pizza loaded with all your favorites: bacon, pepperoni, ham, sausage, house-made sauce and 100% whole-milk mozzarella.
Sounds pretty delicious — almost as delicious as record-breaking inauguration crowds. The description of the #AlternateFacts pizza ends with a nod to our newly inaugurated commander-in-chief:
"This pizza is positively presidential — it's going to be YUGE."