A complete guide to the judges on President Trump's Supreme Court list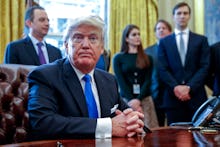 With much of his Cabinet already selected, President Donald Trump's next big move will be nominating someone to fill the Supreme Court vacancy that has persisted since the death of Antonin Scalia in February 2016. 
Though Barack Obama selected Merrick Garland to fill the spot, the Republican-led Senate refused to hold confirmation hearings before Garland's nomination expired Jan. 3, leaving Trump with a huge opportunity in the first weeks of his presidency.
Rumors have swirled about whom Trump will pick, but no nomination has come forth yet. Politico reported Tuesday that three names were on the shortlist. 
Here is a quick look at the top three contenders — and the other names you might hear as speculation continues about Trump's selection for the high court:
Neil Gorsuch
Gorsuch, a judge with the 10th Circuit Court of Appeals, is considered the leading candidate for the job. He has been described as an "ardent textualist" and has consistently come down on the conservative side of cases involving religious freedom, including the famous Hobby Lobby case. Gorsuch is also a bit of an insider, having worked in the Justice Department for George W. Bush before joining the judiciary.
Thomas Hardiman
Hardiman is a judge on the 3rd Circuit Court of Appeals and a reliable conservative. He's ruled in favor of broadening Second Amendment rights and written several opinions ruling against non-citizens in cases involving immigration. Hardiman has never written an opinion on abortion, but did join a ruling in favor of a man arrested during an anti-abortion protest.
William Pryor
Pryor is a judge who sits on the 11th Circuit Court of Appeals. He is considered to be one of the frontrunners for the vacancy — and a perfect candidate for conservatives who want someone with a temperament similar to Scalia's to join the court. 
He has called Roe v. Wade the "worst abomination in the history of constitutional law." He also wrote a brief in defense of anti-sodomy laws that were later overturned in Lawrence v. Texas. Pryor has a history of being harsh on criminal defendants and has never ruled in favor of a defendant in capital cases.
Diane Sykes
Sykes, who sits on the 7th Circuit Court of Appeals, has consistently ruled against reproductive rights and LGBT rights. The left, however, might have just one reason to support her nomination: In American Civil Liberties Union of Illinois v. Alvarez, Sykes issued a majority opinion supporting a person's right to film police officers.
Raymond Kethledge
Kethledge currently sits on the 6th Circuit Court of Appeals. Kethledge's nominating process could be tricky, though, as he faced opposition when Bush first nominated him in 2007.  His past as a corporate lawyer might also be controversial — he once worked as counsel at Ford Motor Company.
Joan Larsen
Larsen currently sits on the Michigan Supreme Court and may be uniquely qualified to take Scalia's seat, as she once clerked for him. Her judicial resume, however, is less than robust: during her time on the Michigan Supreme Court, she hasn't issued rulings on any politically volatile issues.
Steve Colloton
Colloton is a veteran of Washington, D.C., and currently sits on the 8th District Court of Appeals. He clerked for former Chief Justice William Rehnquist, according to ThinkProgress, and is seen as a reliable conservative. Colloton has been especially supportive of the death penalty and has ruled against abortion rights on several occasions.
Sen. Mike Lee
Lee is a sitting senator and has never served as a judge, but there are still those who think the tea-party conservative would be the best choice. In an administration that has consistently made decisions that clash with history and political precedent, this could be Trump's most shocking decision yet.
Don Willett
Even if you aren't a legal nerd, Don Willett is probably a familiar name to you: The Texas Supreme Court judge has become a minor celebrity for his use of Twitter. Considering how much Trump loves both famous people and Twitter, this could be a dark-horse pick.