Constance Wu slams Casey Affleck's Oscar nom on Twitter: "Affleck's win will be a nod to Trump's"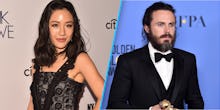 There's one name on the list of 2017 Oscar nominees that seems to have caused Constance Wu concern: Casey Affleck. Affleck, star of Manchester by the Sea, was nominated Tuesday for best actor.
Wu, who stars in ABC's Fresh Off the Boat, shared a screenshot on Twitter of her thoughts on Affleck's nomination.
"He's running for an award that honors a craft whose purpose is examining the dignity of the human experience and young women are deeply human," Wu wrote. 
Wu doesn't directly say the issue she has with Affleck, but she makes veiled references to mistreatment of women and girls. In October, a Variety profile of Affleck mentioned he settled two sexual harassment suits brought up by female co-workers on his mockumentary film I'm Still Here. 
Affleck's sexual harassment suits have barely stemmed the tide of his Oscar buzz. This stands in stark contrast to how the industry treated Nate Parker, actor-writer-director of Birth of a Nation. The movie came out of the Sundance festival — a critical darling and received a $17.5 million deal from Fox Searchlight — the highest ever from the festival. But, after details of Parker's 1999 rape trial surfaced and the movie received a tepid critical reception, Parker became persona-non-grata in Hollywood and the film was mostly shut out of awards conversation.
Wu connected praising Affleck, and possibly handing him an acting trophy, with electing President Donald Trump, who was accused of sexual assault by several women. In October, leaked audio captured Trump condoning sexual assault of women and grabbing them by the genitals. 
Wu argued in her post that, to award Affleck — the Oscar frontrunner — would be to "reinforce the industry's gross and often hidden mistreatment of women." 
"Art doesn't exist for the sake of awards, but awards do exist to honor all that art is trying to accomplish in life," Wu wrote. "So context matters. Because in acting, human life matters. It's why art exists.
"I know it's just an award but I guess I'm in this career not for awards, but because the treatment of human life matters so me. So I stand the fuck up for it."