Trump's Keystone Pipeline Executive Order: Here's why environmentalists are vehemently opposed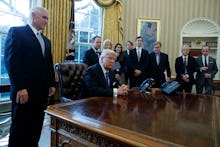 President Donald Trump has signed executive orders clearing the way for the construction of the controversial Keystone XL and Dakota Access pipelines, he announced in a tweet Tuesday.
The move ignited a firestorm of criticism from opponents of the pipelines — among them, many environmentalists. On Twitter, Sen. Bernie Sanders accused Trump of putting the "short-term profits of the fossil fuel industry ahead of the future of our planet."
Why do environmentalists oppose the Keystone XL pipeline?
The proposed 1,200-mile pipeline from Canada to Nebraska has been the subject of spirited protest since it was proposed in 2008. 
Critics argued that the pipeline posed a threat to endangered species and would increase air pollution, greenhouse gas emissions and the possibility of oil spills. The pipeline would carry 800,000 barrels of oil per day from oil sands in Alberta to the Gulf Coast. 
Former President Barack Obama rejected the project in 2015 in a move that was cheered by environmental activists but criticized by Republicans, who believed the construction of the pipeline would create jobs and boost the economy. 
#NoKXL was trending on Twitter Tuesday afternoon after Trump reversed Obama's decision. 
Both the Keystone XL and Dakota Access have been staunchly opposed by indigenous communities and their supporters since their initial proposals. The American Civil Liberties Union on Tuesday called Trump's move a "slap in the face to Native Americans."
What's next?
Trump's executive order opened the door for construction of the controversial pipelines, which he said would mean "a lot of jobs." He said that he would "renegotiate some of the terms" of the project, which he also said would be built with American steel "like we used to in the old days." Trump signed decrees to streamline the permitting process and reduce "regulatory burdens for domestic manufacturing," and to expedite environmental reviews of "high-priority infrastructure projects."
Trump once held stock in Energy Transfer Partners, which owns the Dakota Access Pipeline, though he reportedly sold his stake over the summer. 
Opponents of the pipelines are planning a rally at Lafayette Square in Washington, D.C., outside the White House, for Tuesday night. There is also a rapid response planned near Trump Tower in New York City. 
In a statement Tuesday, Rhea Suh, president of the National Resources Defense Council, said Trump was trying to "lock" the nation into the "dirtiest fuels of our past" and vowed to fight construction of the pipelines.
"[The pipelines] pose a grave threat to our water, communities and climate," Suh said. "We will use every tool available to help ensure they are not built."