iPhone 8 Update: Latest report shows what huge feature might not make the release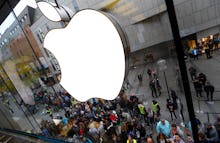 One of the hottest rumors swirling around Apple's iPhone 8 is wireless charging. According to reports, the device — which will likely launch in 2017, marking the 10th anniversary of the iPhone — was speculated to come with wire-free charging technology. But now, those rumors are being debunked by an in-depth analysis.
Rumors first started when Steve Rizzone, CEO of wireless-charging company Energous, announced at the Consumer Electronics Show that the first wireless transmitters would be in "one of the largest consumer electronic companies in the world."
"I cannot tell you who it is," Rizzone told the Verge. "But I can virtually guarantee that you have products from this company on your person, sitting on your desk or at home."
Since Energous signed a deal with Apple supplier Dialog Semiconductor last year, all signs pointed toward the iPhone. Citing an anonymous source, Nikkei Asian Review later reported that Foxconn Technology Group was creating wireless charging units to accompany iPhones.
"But whether the feature can eventually make it into Apple's updated devices will depend on whether Foxconn can boost the yield rate to a satisfactory level later on," the source told Nikkei Asian Review.
In a new report, researchers at Copperfield Research now say wireless charging is simply not on the horizon. One reason is Apple's recent deal with Lite-On Semiconductor — the company would not need this deal if wireless charging was their only agenda, reports Forbes. Secondly, the rumored "all-glass" body of the device is helpful for induction charging, which is the technology used in traditional charging.
While wireless charging may not be a reality for the iPhone 8, the next iPhone will likely feature a redesign, be missing a home button and come in three sizes — 4.7-, 5.5- and 5.8-inch models. Analysts have also predicted the Plus model will be outfitted with an OLED display.