'Overwatch' Fan Art Cupcakes: These adorable Pachimari treats look delicious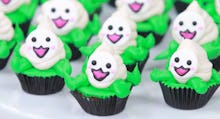 The Overwatch fandom already has a rabid cosplay and fan art community, so it was only a matter of time before it branched into the culinary world, too. Specifically, the world of immaculately decorated cupcakes.
Over on YouTube, Rosanna Pansino cooked up some Pachimari-themed cupcakes as a part of her Nerdy Nummies series. If you're scratching your head at what the hell a Pachimari is, it's the unofficial Overwatch mascot — you know, the little onion-octopus dudes you see hanging out in the arcade machines on Hanamura:
Not only are these cupcakes absurdly cute, but they also incorporate actual turnips and onions into the recipe to keep with the theme.
Yes, onions — don't worry, they're carmelized.
Once you get past the initial weirdness of some of the ingredients, it comes together to look pretty tasty. The cinnamon and brown sugar probably help sweeten everything up.
And, of course, the most important part is the Pachimari face decoration, made from a combination of traditional frosting for the body, and a bit more detailed frosting work for the candy faces.
I mean, come on. Pretty stinkin' cute. Get it? Because onions. Sorry.
The full instructional video is embedded below.
More Overwatch news, updates, tips and tricks
For more on Overwatch, check out the rest of what Mic has to offer. Here is a hilarious video of a new bug that ejects D.Va into space, the latest developer update where Overwatch director Jeff Kaplan explains the new Capture the Rooster mode, the full patch notes for Overwatch version 2.03, a full explanation of the different types of health in Overwatch, the latest rumor of a Terry Crews-voiced Overwatch character, our definitive ranking of every Overwatch hero and a giant Overwatch FAQ for beginners.