Meet the German artist whose Trump-Statue of Liberty illustration is becoming a viral protest image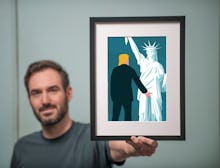 Millions of people participated in Women's Marches across the globe over the weekend, and the protests were swarmed with powerful images and posters ranging from seething and topical Donald Trump takedowns to criticisms of Sherlock season four (which, fair — but not really the place). But perhaps no image is more synonymous with the new POTUS than an illustration of Trump and the Statue of Liberty. 
You've probably seen the image before in some shape or form. If not, it's not unlike a brazen cover of the New Yorker. We have Trump grabbing the crotch of Lady Liberty, a not-so-subtle nod to the real estate mogul's infamous leaked 2005 tape in which Trump describes actions that can easily be construed as sexual assault. 
The illustration has spread like wildfire, and at first to the surprise of its creator: German artist Lennart Gäbel. Gäbel, who lives in Hamburg, Germany, says he initially created the artwork — officially titled "They Let You Do It" — within days of the Access Hollywood tape being released. In other words: before the election took place. It was originally a sketch, and while it was well-received, Gäbel didn't publicize it outside of his social circles on Facebook and Instagram. 
It first hit the mainstream when German public radio station WDR told Gäbel they wanted to purchase and use the artwork in the event that Trump was elected. Gäbel says he — like many Americans at the time — didn't think much of it because so many polls showed Hillary Clinton as the clear frontrunner. After the shock result, Gäbel had his own theory as to why the image became a hit on WDR and began to spread. 
"When people were finding out this news, they were going online to find peers to try and make sense of everything," he says. "It's mind-blowing, because I studied in New York for half a year and I was living on the Lower East Side when the Occupy movement began. That was always my goal: to voice an opinion, but not with Twitter, but with a picture. Now that people take my image and make it theirs, because we share the same ideals and the same opinion, it's the best thing ever." 
Gäbel says he's drawn other politicians before, but Trump is "impossible not to make fun of." "This whole person is a caricature that, when you follow the news — and even if you don't follow the news — you know this guy and how ridiculous he is," he added. "Trump is just … he's so many things you don't want to see in a person." 
The other Trump illustration Gäbel currently has on his artist website is one he aptly calls "shithead" over the phone. Trump is seen mouthing off into a microphone, with his acutely orange hair bearing the likeness of the poop emoji. 
It's still very early into Trump's first term, but Gäbel's "They Let You Do It" piece has thus far been synonymous with his controversial appointment, akin to Shepard Fairey's iconic Obama-Hope poster. While Gäbel says he doesn't want to compare the two illustrations directly, he does think they provide a good perception for how the artistic community — and people, in general — perceive both presidents. 
"In 100 years when you look back and you see these two images, you can kind of see how the Western world saw these two politicians: the hopeful, young savior, and the other one is a big mess," he says. "If this image becomes anything close to the [Obama-Hope image], then I can go and die and be happy." 
Gäbel says he was pleased to receive emails from 10 different cities in America in which his Trump illustration was used during the Women's March. Plus, as a friend told him, Drew Barrymore and her family were at the Women's March in Los Angeles displaying his artwork. Such publicity will only help Gäbel's artistic standing, and while he doesn't want to just be known as "the Trump guy," he understands the significance of such symbols in the current political climate — not just in America, but around the world. 
"Waking up, and with the U.K. leaving Europe and situations like this, I really have a hard time not making an illustration to it," he says. "When something happens, I want to express my opinion in art and that's going to happen a lot more ... I don't run out of ideas when I watch the news these days."