'Dark Souls 3' DLC 2 Trailer: "The Ringed City" gets a March release date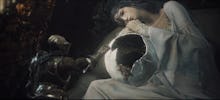 Rumor has it Dark Souls 3 could be coming to Nintendo Switch someday. We still haven't heard any concrete information about that — but if you have it on PS4, Xbox One and/or PC, we have some good news for you: Dark Souls 3 is getting its second DLC, called "The Ringed City," available on March 28.
Dark Souls 3 DLC 2 Trailer: Prepare to die, again, in "The Ringed City"
In what is being called the "epic final chapter" of the Dark Souls world, "The Ringed City" takes players to, well, the Ringed City. Story details are sparse right now — who are we kidding, they'll be sparse in the game, too — but the game's official website confirms you'll be chasing Slave Knight Gael to "the literal end of the world." Gael is searching for the Dark Soul of Humanity, and you probably want to stop him. Or maybe not. Who knows? Morality is such a fickle construct in the world of Dark Souls.
Aside from giving you new locations to kill (and die) your way through, "The Ringed City" promises new enemies, bosses, armor, magic and weapons. Additionally, Dark Souls 3: The Fire Fades will bundle the game and both DLC packs together on PS4, PC and Xbox One when it launches on April 21. 
To see the kinds of horrifying nightmares you'll encounter in "The Ringed City," check out the trailer below. 
More gaming news and update
Hungry for more video games news. Check out the latest from Mic, including our Resident Evil 7 review roundup, the new trailer for Overwatch Year of the Rooster and the latest details on an big incoming update for the Pokémon Bank.