Michigan EPA says Flint's water is fine — but what do residents have to say?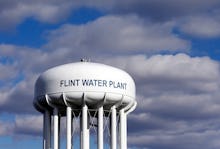 Michigan environmental officials announced on Tuesday that lead levels in Flint's water no longer exceed the federal limits. 
The Associated Press reported that the EPA's findings were "good news for a city whose 100,000 residents have been grappling with the man-made water crisis." But does it mean that every resident has access to safe water?
Many signs — some literal — point to no. 
At Saturday's Women's March on Washington, a number of women from Flint marched with signs reading "Water and Justice for Flint" and "Flint need[s] clean water." 
"They caught themselves fixing a little, few pipes, but it's still just as bad," Flint resident Helen Brock told Jezebel. "It's like we the forgotten city, now. You know, the news is off it, so they don't care."
On Monday, a photo of a man holding a sign reading "It's 2017 Flint, MI has been without clean water since April 24, 2014" claimed the top spot on Reddit's front page. 
Republicans in Congress ended their investigation into the Flint water crisis in December, stating that their efforts hadn't uncovered anything they didn't already know.
"The committee found significant problems at Michigan's Department of Environmental Quality and unacceptable delays in the Environmental Protection Agency's response to the crisis," Utah Rep. Jason Chaffetz wrote in a letter at the time. 
He suggested that the EPA divert funds from efforts to combat climate change to improving water pipes and countrywide infrastructure. And with that, the case was ostensibly closed.
The same month, Mic reported that lead levels had indeed improved between 2015 and 2016, according to a study led by Virginia Tech University professor Marc Edwards. However, Edwards himself cast doubt on whether the problem could ever be completely eradicated if not for a complete overhaul of the pipe system.
"[It's] very likely folks will never be told the water is safe as long as those lead pipes are there," he said.
The Guardian's January 2016 report on officials "distorting" tests to understate lead levels across the country doesn't inspire much confidence in Tuesday's announcement that the water is safe for drinking, either. 
The documents obtained by the outlet showed that "several cities have advised residents to use questionable methods when conducting official tests for lead content." These tricks include encouraging residents to run the water to flush out lead from pipes or remove the filters from their taps. 
The AP acknowledged residents' mistrust in government following the three-year long crisis, which led to the deaths of 12 people from Legionnaires' disease.
However, the city has allocated $27 million dollars to replacing "at least 7% of its lead service lines" by June 30 of this year, suggesting there's an end in sight for Flint residents without clean water.
"The remarkable improvement in water quality over the past year is a testament to all levels of government working together and the resilient people of Flint helping us help them through participation in the flushing programs," Gov. Rick Snyder said in a statement. 
"There is still more work to do in Flint, and I remain committed to helping the residents recover and restore their city."