This Argentinian teacher with Down syndrome will inspire you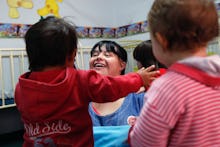 Noelia Garella is a preschool teacher in Argentina who also happens to have Down syndrome, a genetic disorder that causes developmental, physical and intellectual delays. 
Garella didn't let that — or anything else — stop her from achieving her dream of becoming an educator. In 2012, she became the country's first teacher with Down syndrome.
Getting to this point was not without its obstacles. Garella faced adversity all throughout her life, including when she tried to become a teacher. 
Once, when she was a child, a principal even called her a monster. But Garella told the Independent her story is similar to some of the fantastical stories she reads to her students.
"Now I'm a happy monster," Garella said. "She is the one who is a sad monster." 
The thing she loves most about her job, Garella said, is "the beautiful hearts the kids have and the love they have."