This playlist featuring Arcade Fire, Angel Olson will help you protest Trump's agenda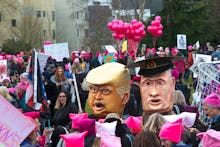 Starting the day before the inauguration and carrying through the weekend, opponents to President Donald Trump managed to organize four days of powerful resistance. The question now: How can people keep this momentum going over the next four years? 
There is no 5-Hour Energy-type solution to simply flood the body politic with continued zeal. But are there subtle ways to keep the pressure on and ways to oppose some of the more troublesome aspects of the Trump administration's agenda. The music you listen to is one such way.
Leading up to the inauguration, scores of musicians announced initiatives to donate portions of their album and song profits to the charities supporting at-risk groups over the next four years. Pinegrove raised over $21,000 for Planned Parenthood with an album sales push in 2016; proceeds from Arcade Fire's latest track will support the American Civil Liberties Union; Angel Olsen, Mitksi, Whitney and more contributed tracks to the Our First 100 Days project, raising money for People's Climate Movement and All Above All, among other charities.
We've broken down some of the more outstanding offerings below and collected those charity tracks available to stream on Spotify into the embedded playlist. In those instances those where the music is only available via Bandcamp or subscription, we've found a stand-in from the artist. At the very least, you'll be supporting an artist who's committed to assisting the resistance in some way.
Arcade Fire, "I Give You Power"
Indie pop outfit Arcade Fire released their first song in four years, "I Give You Power," on the eve of Trump's inauguration. "It's never been more important that we stick together and take care of each other," the band wrote on Twitter for the release, which features vocals from gospel singer and civil rights icon Mavis Staples. 
All proceeds will go to the ACLU, an organization that's promised to oppose Trump with "full firepower ... at every step" if he looks to go through with his "un-American and wrong-headed" campaign proposals.
Entrance, "Not Gonna Say Your Name"
Borrowing a bit of logic out of the Harry Potter universe, Entrance shared his "Not Gonna Say Your Name" to resist the he-who-shall-not-be-named who now sits in the White House and to support Planned Parenthood.
"I decided to use the song to benefit Planned Parenthood because one of the things that is so shocking about the election result is that it sends such a negative message to women and girls," the artist said, according to the song's Bandcamp page. "It is the least I could do — for all of the women in the world, in my life, and especially for my mother — to fight back and make a clear statement that we will not accept this backwards agenda."
Stephen Malkmus, Carrie Brownstein, Doug Martsch, Battle Hymns
The Battle Hymns collection, spearheaded by Sam Coomes and Janet Weiss of Quasi, compiles songs by Carrie Brownstein, Stephen Malkmus, Doug Martsch and others. The album isn't available to stream anywhere, but the $20 price point goes towards supporting Planned Parenthood, the ACLU and 350.org.
Pinegrove, Elsewhere
In December, Pinegrove opened their entire Bandcamp catalog to be pay-as-you-want, promising to donate all the proceeds to Planned Parenthood. On Inauguration Day they repeated the move, releasing a live EP titled Elsewhere, promising to donate the proceeds to Southern Poverty Law Center, a nonprofit fighting for racial and social justice.
"We are saying, hey, listen, we're in this," Pinegrove's Zack Levine previously told Mic. "We are paying attention. We are shifting our priorities to center around this, and we understand that it is our responsibility to do so. This is not going to be a flash in the pan, a New Year's resolution abandoned in February — we fully plan on staying engaged and active about this for the rest of our lives."
United Nations, "Stairway to Mar-a-Lago"
A nod to the name of Trump's Palm Beach, Florida, estate where he allegedly wrote his inaugural address, United Nations' "Stairway to Mar-a-Lago" expresses unmitigated shock that the nation allowed a seeming white supremacist sympathizer into the White House.
"It blows my mind how these Nazis took the stage and pandered to your deepest fears," the track's mystery singer intones. The proceeds it earns on Bandcamp will be split between Planned Parenthood and the ACLU.
Aye Nako, Mannequin Pussy, Downtown Boys, Smooches
Another Bandcamp-only dedication, Smooches pulls together contributions from artists involved with the Deep Shred artist collective. According to the tape's description, every artist will get to choose which charity their earnings support from the ACLU, Planned Parenthood, the Human Rights Campaign and the National Immigration Law Center.
Austra, Future Politics
The first day Austra's electronic pop Future Politics was out in the world, the group hosted it on Bandcamp as a pay-what-you-want download, donating the proceeds to Planned Parenthood. 
"Our long-planned release date now has the horrible significance of also being the day he takes office," the band wrote on Bandcamp. "This record is our commitment to envisioning something different as humans, something outside of the current systems of say what you want, take what you want, and give nothing back."
Emma Ruth Rundle, "Forever, as the Setting Son"
Thursday, singer-songwriter Emma Ruth Rundle tweeted out that she was unable to attend Saturday's Women's March. In place of the support her presence would have provided, she offered the next best thing: a song. The profits will go towards supporting Planned Parenthood, an organization Rundle described as an "important institution" to support "in this divisive time, so that they may continue to provide care for people of all races, religions, sexes, countries of origin, all genders," in the song's Bandcamp description.