What's leaving Netflix in February 2017? Here are the top 6 titles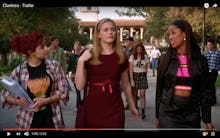 Almost one month into the new year, it's time to reflect on goals and resolutions for 2017. If you haven't gotten around to making it to the gym five times a week or writing thank you notes for holiday gifts, why not set some more manageable goals — like watching some of the best films Netflix has to offer before they're removed from streaming. 
Black Hawk Down (Feb. 1)
Adapted from Mark Bowden's book of the same name, this star-studded film  — the cast includes Josh Hartnett, Sam Shepard, Eric Bana and Tom Hardy, to name a few — depicts United States soldiers who find themselves battling Somalis while trying to rescue lieutenants from a warlord. The film portrays the life of the soldiers, offering a grisly look at the danger faced in a raid they had expected to be simple. While the film received positive reviews, it was also criticized for straying from its source material. The political undercurrent of the film is worth considering in light of current events in America as well. 
There Will Be Blood (Feb. 1)
Daniel Day-Lewis won his second Oscar for his performance in this film, which was based on Upton Sinclair's novel Oil. Lewis' portrayal of Daniel Plainview's heartless ambition and disengagement from other people is absolutely terrifying. Directed by Paul Thomas Anderson, the movie inspires questions about greed, success and what the American Dream actually entails. The milkshake speech alone is worth the watch. 
Last Holiday (Feb. 1)
Queen Latifah stars as Georgia, a shy aspiring chef who is told that she has a rare brain condition and only a few weeks left to live. She decides to spend her last funds on a luxury holiday in Europe before she dies and proceeds to befriend and charm everyone at the hotel by doing so. A sweet, heartwarming story, this movie will inspire people to start checking items off their bucket lists. 
Mission: Impossible 3 (Feb. 1)
Secrets, lies and explosives pack this third installment of Ethan Hunt's international adventures, which was directed by J.J. Abrams. Ethan is attempting to retire from field work and focuses on training new recruits, but when a famed arms dealer (played by Philip Seymour Hoffman) needs to be tracked down, Ethan's the only one to do it. Small problem: He hasn't told his fiancee what his job actually is. 
The Nut Job (Feb. 13) 
You're never too old for a fun animated movie. In The Nut Job, you've got funnyman Will Arnett voicing a squirrel who gets mixed up in an unlikely rodent heist. Add in voice-over work by Brendan Fraser, Liam Neeson and Jeff Dunham, and it's definitely time for a movie night. Peanut butter-based snacks are recommended. 
Clueless (Feb. 28) 
Who knew Jane Austen could be so relevant? This (at the time) modern-day adaptation of Austen's novel Emma, about a well-intentioned society girl attempting to play matchmaker, is set in 1990s Beverly Hills and stars Alicia Silverstone as the high school student who thinks she has it all figured out. It also introduced Paul Rudd as the dorky dreamboat he remains to this day. Miss watching this movie one last time? As if!