Everything Melania Trump has worn during her first week as first lady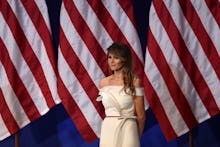 First ladies have long been looked to for their style. In a position that doesn't include nearly as many speeches as the president, clothes can help speak for the first lady and provide hints on their attitude or thoughts. It can even be a signal of diplomacy, as it often was for former first lady Michelle Obama. 
So far, first lady Melania Trump is carving out a style and fashion sense that's all her own, often wearing simple and elegant designs by both American and European designers. 
One week in, her style is clearly a departure from Obama, who created a legacy by shining a light on young American designers and designers of color. She wore designs from Taiwan-born Canadian designer Jason Wu to both inaugural balls in 2013; Cuban-American designer Isabel Toledo created Obama's look for 2009's Inauguration Day festivities. 
Trump, on the other hand, has yet to wear a designer of color since her husband's inauguration. 
Here is everything Trump wore in her first week as first lady: 
Friday, Jan. 20: Ralph Lauren for Inauguration Day 
For the swearing-in ceremony — when she would officially become America's first lady — Trump opted for a powder-blue cashmere suit and jacket designed by Ralph Lauren, which she paired with matching gloves and shoes. 
"With the historic swearing-in of her husband, Donald J. Trump, as the 45th president of the United States, the first lady-elect will become America's new first lady wearing an American designer who transformed American fashion, Ralph Lauren," Trump's spokesperson told Women's Wear Daily. 
Immediately, people compared the look and silhouette to that of Jackie Kennedy, who indeed wore a similar color to her husband's 1961 inauguration. 
Friday, Jan. 20: Hervé Pierre for the inaugural balls 
Before Trump, first ladies often went for sparkles when choosing their gowns for the inaugural balls. Obama, Laura Bush and Hillary Clinton all opted for super-glittery gowns for each of their big nights. 
But this time around, Trump went for modern and sleek, wearing a white, off-the-shoulder dress with a red ribbon at the waist. What was perhaps more shocking than the dress' pure simplicity was its creator — French designer Hervé Pierre, a relative unknown who, at one point, was the creative director at Carolina Herrera. 
Additionally, Trump reportedly had a hand in designing the gown herself — which, as Mic reported Monday, is unprecedented. 
Saturday, Jan. 21: Alice Roi to the National Cathedral 
On Saturday, Trump arrived at the National Prayer Services at the National Cathedral in Washington, D.C., wearing a navy cashmere dress and coat designed by New York-based designer Alice Roi.
Much like Pierre, Roi also reported Trump contributed to the design of the voluminous outfit, which was meant to evoke French actress Catherine Deneuve in the 1960s. 
"She definitely knew what she wanted," Roi told Women's Wear Daily. "She knows clothing well and she's very direct. She has a wonderful, chic sense of style. That's something no matter what you put on her she kind of exudes. It's very guiding for the designer because you know exactly what to do to get in line with her right away. She knows what she wants even before she sees it. And it's always with really, really good taste."
Although Trump has been incredibly elusive — slipping out of Washington on Sunday and not emerging since — she's clearly on her way to crafting a style all her own, perhaps with some nods to other powerful women along the way.