15 Valentine's Day gifts for you and your loved one — or just you, that's perfectly OK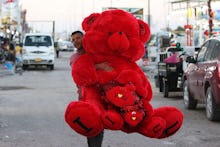 Valentine's Day is one of the more precarious holidays of the year. For those in committed romantic relationships, there's no secret who they'll be spending the day and/or night with. But for everyone else casually dating or just enjoying the single life, plans are generally up in the air. Well, until now.
For V-Day this year make it about loving yourself and your closest friends. While everyone else is having dinner by candlelight, get yourself a gift and buy gifts for your loved ones. Below, we have some options at every price point from $13 socks to a $1,300 mink clutch you'll keep for a lifetime. They say if you don't love yourself, you can't love anyone else — so indulge away.
Check out these 15 Valentine's Day gifts for you and your clique below.
Editor's note: Prices and product availability are subject to change.
Godiva "I Love You" sweet surprise tower: $90
Chocolate lovers, this is for you. This tower of sweetness comes with four levels of milk, dark and white Belgian chocolates and truffles. Add a glass of Champagne while you're taste testing for your favorite chocolate pieces.
Brooks women's Cascadia 12 trail running shoes: $130
Loving yourself means feeling good inside and out. If in need of bold motivation, get these cushioning running shoes from Brooks in bright magenta and purple.
HUM Nutrition Red Carpet supplements: $25
Daily supplements are a fantastic way to get nutrients easily into your system. Treat yourself to glowing skin with HUM's Red Carpet that has sunflower and black currant seed oil. Plus, the red bottle is quite festive for the occasion.
ILY Couture Wifey sweatshirt: $62
Cuddle up with your bestie, but first, gift him or her this cozy "Wifey" sweater. This pullover is made from soft eco-fleece, which makes it environmentally friendly and perfect for all-day wear.
Mytropolis by Foot Cardigan socks: $13
After you set up your box set of Golden Girls for a marathon and grab snacks, slip on these socks made from a cotton-polyester-elastane blend. The collection these babies come from have styles repping every major city.
Birchbox subscription: $30
If you've been toying with the idea of getting a Birchbox subscription, February is the month to do it. In honor of Valentine's Day, the beauty brand is putting a kissable lip product in every box.
Fogo de Chao dinner: $100
Authentic gaucho style Brazilian steakhouse? Yes please. We say treat yourself and your favorite parent (we all have one) to a fancy meal that gives access to their cold/hot food stations, never-ending choice of cured meats and fully stocked bar.
GEORGINE heart clutch: $1350
Yes, this is very pricy. We know this. But there are some pieces that you buy to last a lifetime. While you're single and can possibly afford this, now is the time to splurge on this 100 percent mink made-to-order clutch.
Les Lunes Lingerie George V nightdress: $118
When sexy meets comfy, we're 100% here for it. This French lace nightgown with adjustable straps is great for casually lounging around the house like a classic Hollywood movie star.
Antinori Guado al Tasso Scalabrone Rosato 2015: $25.99
It may not be rosé season in the United States, but it is somewhere else in the world. Cheers to the good, single and ready to mingle life with this fruity bottle of wine made in Tuscany, Italy.
Forever 21 velvet platform heels: $38
Do these velvet platform heels have anything to do with Valentine's Day? No. But they're red and really sexy. Plus, you put these on and you may catch your 2018 Valentine.
Spectre & Co. gold arrow tie bar: $25
Gift your crush a small token of appreciation with this stainless steel clip to keep neck ties down. If they're smart, they'll realize it being shaped like an arrow means they've struck your heart.
Dr. Murad rapid resurfacing peel: $44
It ain't no fun unless we all get some... beauty treatments. Order pizzas, watch Sex and the City and try these Glycolic anti-aging peels with your friends that'll be less harsh than the one Samantha tried in season five.
Kendra Scott Adella stud earrings in antique silver: $95
From Kendra Scott's bridal collection, these earrings are so gorgeous we're not sure if you should gift them to your closest friend or buy them for yourself. Either way we think they have a vintage, romantic look to them and are a perfect V-Day gift.
MILK Makeup Limited Edition Triple Threat Glow Set: $30
For those of you who recently exited a relationship, this is the ultimate gift. Show off your post-breakup glo' up in those sexy Valentine's selfies with this highlighter, face mist and sunshine oil combo from MILK.