'Overwatch' Year of the Rooster: Patch 2.03 bug ejects D.Va and shoots her into space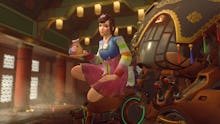 The newest Overwatch patch ushered in a ton of new changes, including the Year of the Rooster event and all sorts of nerfs and buffs for various heroes, but it also seems to have introduced a new bug. 
It, uh, seems to cause D.Va to rocket into the stratosphere when she's knocked out of her mech during 3-on-3 matches on Ecopoint: Antarctica. This bug really sucks for people who like to play D.Va, but we're not gonna lie, it's pretty hilarious.
Even though the patch has only been live for a few hours, there are already several reports of the bug on the Overwatch subreddit. For example:
• "New D.Va bug"
• "D.Va 3v3 map glitch, 100% re-creatable"
• "Anyone else getting launched out of the map with D.Va in 3v3?"
• "When D.Va's mech is destroyed in 3v3 she falls out of the map"
• "New glitch on 3v3 causing baby D.Va to be launched out of the map since update"
In an email to Mic, Blizzard said, "We're aware of this bug and are currently looking into it."
More Overwatch news, updates, tips and tricks
For more on Overwatch, check out the rest of what Mic has to offer. Here is the latest developer update where Overwatch director Jeff Kaplan explains the new Capture the Rooster mode, the full patch notes for Overwatch version 2.03, a full explanation of the different types of health in Overwatch, the latest rumor of a Terry Crews-voiced Overwatch character, our definitive ranking of every Overwatch hero and a giant Overwatch FAQ for beginners.