15 Netflix movies and TV shows that will educate kids in 2017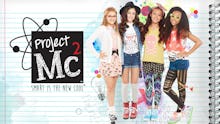 While Netflix is home to some great content for adults — such as the best superhero movies and TV shows of all time and some of the most informative documentaries around — the streaming service also provides an abundance of educational movies and TV shows for kids. From science and math, super-secret spy missions, protecting the environment and even everyday tasks like how to address an envelope, these productions offer children fun and engaging ways to learn. 
Here's our list of the 15 most educational movies and TV shows for children on Netflix right now:
1. Super Why! — for ages 3+
Super Why! is a great show, especially when it comes to helping young children develop an interest in reading. Wyatt and his pals often have to "look in a book" to find clues to help them solve everyday problems. Each character has a different power: spelling power, word power and alphabet power — and together they teach the fundamentals of the reading process. 
2. Little Einsteins — for ages 4+
Four young friends take on big adventures in Little Einsteins. The show uses art, photography and classical music to keep kids interested as the tiny team utilizes their musical talents to accomplish their missions. The best part about Little Einsteins? It's interactive, so viewers can play along as the little Einsteins make their discoveries. 
3. Special Agent Oso — for ages 3+
Geared towards preschoolers, Special Agent Oso helps kids tackle everyday challenges like brushing their teeth and using the library. Its plot — centering on a special-agent-in-training — is exciting, but Oso sneaks in some good learning experiences to help little ones develop their sense of things like shape recognition, chronology and spatial relationships, to name a few. Perhaps most importantly, Special Agent Oso teaches children about helping others.
4. Justin Time GO! — for ages 3+
Justin and his friends explore new lands and discover new creatures during their imaginary adventures in the Justin Time Go! movie. This show leans more toward entertainment than education compared to the others we've listed thus far, but it does take time to teach social and science lessons along the way.
5. Justin Time — for ages 3+
Justin has a very active imagination, but the adventures he goes on are very real to him. The Justin Time series teaches about animals and ecosystems, and his parents are involved in every episode — which is a nice change of pace from many children's shows.
6. Sid the Science Kid: The Movie — for ages 4+
Sid the Science Kid: The Movie is perfect for children who love dinosaurs. Set in a museum, the movie incorporates technical scientific jargon in a kid-friendly way, and teaches about things like machines, weather patterns and how different biological systems work.
7. Sid the Science Kid — for ages 4+
Sid the Science Kid offers episode after episode of education-filled fun. This series introduces children to the basics of scientific study, utilizing hands-on problem solving, songs, dancing and a healthy dose of humor to help get the lessons across.
8. Bill Nye the Science Guy — for ages 7+
Bill Nye the Science Guy is a show you might remember from your own childhood, but it's still relevant today. By combining action and humor, Bill Nye teaches children the fundamentals of science, including biodiversity, magnetism and outer space, focusing on a different topic in each episode.
9. LeapFrog — for ages 2+
From learning about the alphabet, phonics, numbers, math, shapes and so much more, Netflix has 12 different LeapFrog titles to help educate children in fun and exciting ways. 
10. Adventure Planet — for ages 8+
Adventure Planet tackles the subject of climate change, teaching children the importance of caring for the environment with a cautionary tale of cities under siege from fireballs, explosions and earthquakes. The kids in Adventure Planet embark on a harrowing mission, but there are no injuries or deaths shown in this tale. 
11. Fishtronaut — for ages 4+
In Fishtronaut, an adventurous team of kids solve mysteries about the environment and nature by following clues. The series teaches about animal habitats and their classifications, as well as the diversity found in nature.
12. Word Party — for ages 3+
Word Party's diaper-wearing toddlers are excited to learn from the "big kids" in the audience, so they draw the viewer in by calling on them to answer questions. This Netflix original teaches children vocabulary and gives them the opportunity to "teach" the show's characters.
13. Brain Games — for ages 8+
Brain Games uses experiments, optical illusions and brainteasers to teach children the science behind how our brain works and how we process information. Children will learn how the human brain is hardwired to protect us and keep us happy, but the show also explores the concepts of fear and anxiety. This series contains censored language and experiments that may be dangerous to conduct at home.
14. Project Mc² — for ages 7+
Four intelligent teenage girls tackle the subjects of STEM — science, technology, engineering and math — after being recruited by an all-female organization of secret agents. Project Mc² features a racially diverse cast and works to shatter the stereotypes associated with STEM.
15. The Magic School Bus — for ages 7+
The Magic School Bus is a classic series that teaches children about climate change, dinosaurs, the planet and much more. Ms. Frizzle takes her students on wonderful adventures via the magic bus, providing loads of fun for the characters and viewers alike.