'The Flash' Season 3, Episode 10 Recap: Headlines hint at future problems for Barry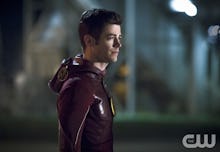 The Flash is back … to the future! 
When we last left our heroes, Barry had just seen a glimpse of his future — and it wasn't great. In four months — just in time for the season finale — evil speed god Savitar kills Iris. In Tuesday's midseason premiere, "Borrowing Problems From the Future," Barry is fully consumed by this dark premonition. It shades every decision he makes — but it also sets up what is sure to be a rollicking set of upcoming episodes.
The most important moment from episode 10 of season three came about halfway through. After Barry tells Iris and the rest of the team (except Joe) what he saw in the future, he and Cisco decide to vibe to the future to glean as much information as they can. The theory is that the future is a set of dominoes. If they can remove or change each event leading up to Iris' death then they might be able to save her.
Once in the future, Barry and Cisco see a news report and read a series of headlines that could help them rewrite what's about to happen. Conveniently these headlines also foreshadow a selection of episodes coming down the pike. 
"Music Meister gets six-figure book deal"
TV Line announced Monday that Glee star Darren Criss has been cast to play the Music Meister in a two-episode The Flash-Supergirl musical crossover event. That also makes this a Glee reunion as Barry Allen actor Grant Gustin and Supergirl actress Melissa Benoist also appeared on the former Fox musical series. According to the Batman wiki, the Music Meister has the "ability to hypnotize people by singing." The crossover episodes will air on March 20 and March 21 and feature a whole lot of singing. 
"City still recovering following gorilla attack"
Last we saw Gorilla Grodd had gone to live in Gorilla City on Earth 2. However, executive producer Andrew Kreisberg previously revealed that the character will return.
"We're going to have a two-part Grodd episode," Kreisberg told reporters at a Television Critics Association's panel. "One of the [episodes] will take place in Gorilla City and one of them will take place on Earth-1." Grodd comes back in two weeks for episodes 13 and 14 of The Flash.
"Killer Frost still at large"
Much of tonight's midseason premiere dealt with Caitlyn's ongoing stress about turning into Killer Frost. It leads her to formally invite Julian into the group so he can help protect her from the meta inside her. At the end of the episode Julian and Cisco present Caitlyn with a solar charger for her power-dampening cuffs, but we'll see how long that lasts. If the headline is any indication, Caitlyn could go full Killer Frost in the near future.
"Joe West honored at city hall"
Less important but still interesting, one of the headlines explained that Luigi's has reopened after a murder. This appears to be a new location for the show and may just be a red herring. But the next headline — "Joe West honored at city hall" —  could be interpreted in two ways. Either Joe acted heroically and is receiving recognition for it, or the less likely take, he died in the line of duty. Let's hope it's the former. 
"STAR Labs museum closes" 
This headline probably won't have too much impact on the series as a whole, but after watching episode three it's a bit of a bummer. HR and Cisco feud over the opening of the museum until Cisco ultimately forgives HR and helps him out. Their charming bromance yields an educational and fun museum for kids. What's not to love? 
With all the drama that surrounds STAR Labs at any given moment, it's not much of surprise that it has to close. As the end of the midseason premiere showed, HR may even be in danger. A woman in futuristic clothing leaps out of the speed force and pulls up a hologram of HR's face. It appears he's a fugitive and is being hunted by someone from his Earth. The promo for episode four shows Cisco stepping up to save him.
Mic has ongoing coverage of The Flash. Please follow our main Flash hub.