Trump to sign executive orders banning refugees, suspending visas for 7 countries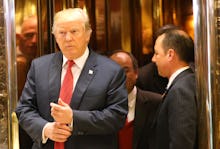 President Donald Trump will sign several executive orders involving immigration Wednesday — one of which will temporarily ban refugees and suspend visas to citizens from Syria and six other countries, Reuters reported.
Congressional aides and other unnamed sources briefed on the orders told Reuters one of the measures would block the entry of refugees in the U.S. for several months, with the exception for those fleeing religious persecution.
In addition to suspending the issuing of visas to citizens of Syria, other countries on the list include Iraq, Iran, Libya, Somalia, Sudan and Yemen.
Although Trump could face legal challenges to these measures, Reuters noted, the orders will be well within his legal rights as president.
During the 2016 election, immigration became one of the Trump campaign's major talking points, with the then-candidate proposing a "total and complete shutdown" of Muslims entering the U.S. Although targeting a specific group of people based on their religion would violate the First Amendment, as Mic noted shortly after Trump's election win, the president can work around that by focusing "the restrictions on countries whose migrants could pose a threat, rather than a ban on those of a specific religion," Reuters reported.
Trump has made it clear that he wants to stop Syrian refugees from entering the U.S., saying to a crowd of supporters in February 2016 that he would "look at their faces and say, 'You can't come here.'" He went on to say, "We don't know where their parents come from, they have no documentation — they have no documentation whatsoever."
Trump's son, Donald Trump Jr., also likened refugees to a bowl of poisoned Skittles. 
Trump alluded to the proposals with a tweet Tuesday night, writing that Wednesday would be a "big day" on national security. In addition to the immigration orders, Trump is also expected to sign one on the infamous border wall between the U.S. and Mexico.