'Suits' season 6, episode 11 recap: What happened in the midseason premiere?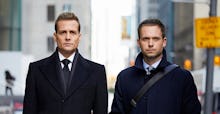 Suits returned from its hiatus Wednesday with the first of six episodes closing out a much different sixth season. Season six, episode 11, titled "She's Gone," picks up in the immediate aftermath of Mike's release from prison and Jessica's decision to leave Pearson Specter Litt. The episode was directed by series star Patrick J. Adams, who has directed two previous episodes as well. We have a lot to unpack from the midseason premiere, so if you have not yet watched, now is a good time to look away (but come back after you do watch!). 
(Editor's Note: Spoilers ahead for season six, episode 11 of Suits.)
Season six, episode 11 of Suits began with nothing more than a tease. Harvey wakes up in his wonderfully sunny bedroom, with Donna accompanying him. Are they officially together? Nope. It was just a dream, which ended with Harvey accusing Donna of leaving him because she will not work for him while they are together. Whether this foreshadows their future is unclear, but Harvey certainly appears to be dealing with some abandonment issues following Jessica's decision to leave the firm. 
Can Harvey at least rest easy knowing that Mike will return to the firm as a consultant, and help save Pearson Specter Litt from collapse? Nope. Much to Harvey's dismay, Mike decides to turn down the offer of employment, so that he can make good on his promise to the jury in season five: to do good. Of course, that is easier said than done. 
Mike's job search 
While Mike Ross is indeed now out of prison, his life remains fairly complicated. Mike is an extremely intelligent man who has worked as a standout (but fraudulent) attorney for five seasons. Now, he must figure out a way to help people without practicing law. Still, he wishes to remain connected to the profession he loves. 
Mike begins his job search by going to a legal clinic, where he is asked to fill out a standard two-page application form. Except, as a convicted felon, these forms are not so simple. Mike later tells Father Walker that he went to 30 different legal clinics and received the same look each time upon disclosing his prison history. But Father Walker offers Mike a lifeline: work as a teacher at the church. This offer, Mike accepts.
Unfortunately, it does not appear that Mike will be spending much time as a teacher. Despite eventually breaking through to the class of "juvenile delinquents," a parent catches wind of Mike's stint in prison, and Father Walker is left with no choice but to end Mike's employment. Personally, I wish this arc had more legs. It would have been a fresh new dynamic for Mike. Not only to be teaching, but to help steer students away from a path that could lead to prison. 
Of course, the focus of the show will likely always be on the law firm, if there still is one...
A new managing partner
With Jessica gone, Harvey and Louis are left to decide who will become managing partner. While Harvey had hoped to avoid the conversation as long as he could (against Donna's advice), Robert Zane brought the confrontation to the forefront when his offer to merge included throwing down what Louis Litt described as a "gauntlet." 
Louis interpreted Zane's offer as questioning his leadership, so he ends up taking the fight to Zane, deciding to poach associates from his firm, rather than hiring a new class of graduates. Enter Katrina Bennett, Louis' former right-hand gal, and current associate at Robert Zane's law firm. After Louis presents Bennett evidence that she will likely never become a partner at Zane's firm, she agrees to help him recruit associates. But Louis does not stop there. 
Against Donna's advice (will nobody listen to the voice of reason?!), Louis is determined to steal Zane's biggest client. But when he tells Katrina, she pleads with him to stop. As it turns out, Zane really is trying to help Pearson Specter Litt (for the sake of his daughter), and waived Katrina and the rest of the recruited associates' non-compete agreements so they could go work with Louis. Louis' reaction to this news is priceless.
Litt up!
I will not hide, or apologize for, the fact that Louis Litt is one of my favorite characters on Suits. He is just so emotional. While Louis' overreactions have become a trademark of the show, lately he has shown some real growth. In the first part of season six, Louis continuously put the safety of the firm, and Mike, ahead of petty disagreements. And it looks like that may continue for at least a short period of time. 
When Katrina tells Louis that Zane waived the non-competes, he realizes that he misread the situation, and perhaps is not ready to lead the firm. This was a shocking show of humility from Louis. But the surprises keep coming. When Harvey finds out that Louis had tried to poach Zane's biggest client, he finally agrees with Donna that he needs to have the managing partner conversation. 
While Harvey had every intention of letting Louis down easy, a confrontation with Mike (more on that later), causes him to absolutely lash out at Louis. But the result is truly shocking. Instead of Louis' blood starting to boil, he tells Gretchen that he deserved the ridicule. 
Over email, I asked Rick Hoffman, who plays Louis Litt, whether we can expect his character's growth to continue going forward. This is what he had to say:
"Yes, but as we have heard many times over, a leopard never changes its spots. His growth and humility are for real. However, like everyone else, you are who you are, and some things can change, but other things always stay the same."
It certainly will be interesting to see this leopard's spots going forward. 
Harvey and Mike on the rocks
If there is one thing to keep an eye on in the remaining episodes of this season, it is Mike and Harvey's relationship. After Mike turns down Harvey's offer of employment, the latter decides to help him become an official attorney. If that were to ever happen, Mike would have to pass the character and fitness portion of the New York bar exam. That is likely an impossible task for someone who had previously impersonated an attorney. 
Still, Harvey ends up speaking with Anita Gibbs, the prosecutor in Mike's case, asking her to testify on Mike's behalf. Let's just say that backfired. Not only will Gibbs do no such thing, she later confronts Mike, telling him that she will do everything in her power to make sure he never works at a legal clinic. This leads to the heated confrontation between Harvey and Mike, where the latter asks the former to stay out of his life. 
It is probably safe to assume that will not be the case, but this is certainly an intriguing development between the close friends. 
Verdict
As you can probably already tell, Suits packed a whole lot of story into this midseason premiere. In addition to everything else we have already discussed, Rachel rejects her father's offer of employment, choosing to accept Louis' formal job offer as a second-year associate. And just to note, this touching moment between Louis and Rachel comes after Louis is berated by Harvey. We will have to wait and see whether this decision comes back to haunt Rachel when she goes before the character and fitness portion of the bar, as she has been told she would have a better chance of passing if working for her father.
Ultimately, "She's Gone" was a tremendous start to Suits season 6.5. The episode set up a lot of drama going forward, with several compelling storylines on the horizon. Harvey is especially having trouble with both Jessica and Mike's absence, which may end up leading him to attempt reconciliation with his estranged mother. This could be a tantalizing story arc, rich with family conflict, which is not always present on Suits. 
As for Mike, I am thrilled that he will not be returning to the law firm right away. There need to be some consequences to his time in prison, and so far, Suits is delivering. While Mike will likely eventually return to the firm (or Harvey's side) in some capacity, for now, his path is uncertain, and I love it. 
Suits season six will continue with episode 12 on Wednesday, Feb. 1 at 10 p.m. Eastern on USA.