What's new on Netflix? The best February 2017 TV and movie additions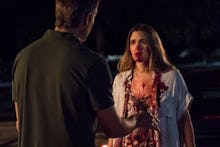 A new month means new titles added to Netflix and tons of stuff to binge-watch your way through the next four weeks. Whatever your flavor, the streaming service has got you covered. 
There are some great new original Netflix series and movies being added in February, including some of 2016's biggest and best films, and new seasons of your favorite shows. Here are the best new movies and TV titles coming to Netflix in February 2017.  
Finding Dory
Start off your month with one of 2016's blockbuster movies, Finding Dory. The sequel to Pixar's beloved Finding Nemo now finds itself on the streaming service Feb. 1. The sequel brings together the familiar underwater gang for Dory's journey of self-discovery. The film earned spectacular reviews and grossed over $1 billion worldwide, because we just can't say no to our favorite forgetful fish. 
The People v. O.J. Simpson: American Crime Story
Ryan Murphy's The People v. O.J. Simpson: American Crime Story had viewers and critics obsessing over the historic case all over again in 2016. The series arrives on Netflix Feb. 2 and has an all-star cast recreating the infamous spectacle: Sarah Paulson as Marcia Clark, John Travolta as Robert Shapiro, Sterling K. Brown as Christopher Darden, David Schwimmer as Robert Kardashian and Cuba Gooding Jr. as O.J. Simpson. 
Santa Clarita Diet (season one)
On Feb. 3, Drew Barrymore and Timothy Olyphant's Netflix original series, Santa Clarita Diet, makes a bloody splash. The highly anticipated series sounds like it could be a romantic comedy, but it's really an offbeat dark comedy about cannibalism. Victor Fresco, the mind behind shows like Better Off Ted and Life on a Stick, is the showrunner, so you know we're in for a trip. 
Barrymore and Olyphant play Joel and Sheila Hammond, realtors who live in the L.A. suburb Santa Clarita and are looking to spice up their life. One night, Sheila goes through a change that turns their family's life upside-down — and they've never felt better. 
Crazy Ex-Girlfriend (season two)
The second season of the CW's acclaimed Crazy Ex-Girlfriend arrives on Netflix on Feb. 11. The standout CW show is still underappreciated but critically adored, so it's worth checking out what happens in season two: We are reunited with our beloved Rebecca, who is dealing with the fallout of confessing her feelings for a certain somebody. 
Girlfriend's Day
One of Netflix's original movies this month is Girlfriend's Day, starring Amber Tamblyn, Natasha Lyonne, June Diane Raphael and Bob Odenkirk. The dark comedy arrives on Netflix Feb. 14 and revolves around washed-up romance card writer Ray (Odenkirk), who is looking to find the magic again with his writing and personal life. But his search leads him down a dangerous path of murder and lies over the creation of a new holiday: Girlfriend's Day.
Girl Meets World (season three)
Although Girl Meets World was canceled after three seasons, let us relish in the final season of the Boy Meets World spinoff arriving on Netflix Feb. 19. Catch up with Cory and Topanga Matthews, their daughter Riley, and her adventures in growing up.  
Trevor Noah: Afraid of the Dark
Trevor Noah, the host of Comedy Central's Daily Show, comes to Netflix on Feb. 21 with his eighth stand-up special, Trevor Noah: Afraid of the Dark. While the material he'll cover has yet to be revealed, he did share a special announcement on his Instagram Tuesday regarding the big news:
Sausage Party
Leave it to the minds of Seth Rogen and Evan Goldberg to deliver 2016's raunchiest animated movie — Sausage Party, which drops on the streaming service Feb. 23. After a terrible accident in the grocery store, a group of friends go on a journey to discover what is really happening between the produce aisles. 
The very adult but family-friendly-looking movie has an incredible voice cast, including Rogen, Kristen Wiig, Salma Hayek, James Franco, Bill Hader, Michael Cera and Jonah Hill. While it may have missed the boat on earning an Oscar nomination for best animated movie, critics enjoyed Sausage Party for being inventive, offensive and absolutely as crude as possible. 
Mic has ongoing coverage of Netflix. Please follow our main Netflix hub here.