Trump Executive Order: Muslim countries are the target of upcoming immigration ban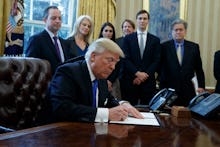 President Donald Trump is reportedly making good on his promise of a "Muslim ban." Reuters reported on Wednesday morning that Trump is expected to sign executive orders on Wednesday that include "a temporary ban on most refugees" and a suspension of visas for seven African and Middle Eastern countries.
Congressional aides and "immigration experts" who had reportedly been briefed on the orders told Reuters that one executive order will block the issuing of visas to citizens of Syria, Iraq, Iran, Libya, Somalia, Sudan and Yemen — all majority Muslim countries. 
Another executive order will ban almost all refugees from coming to the United States for at least "several months," reported Reuters, despite what one former immigration official called "an urgent humanitarian need right now for refugees."
With this order, Trump will be, at least for now, beginning to make good on his campaign promise of a "total and complete shutdown" of Muslim immigrants entering the U.S. And, despite evidence that such a ban would likely be unconstitutional — not to mention unpopular among Americans — Wednesday's news indicates that Trump will continue to work towards his original promise.
Organizers at the Council on American-Islamic-Relations, a U.S.-based Muslim civil rights and advocacy organization, are bracing for Wednesday's orders. "We've expected something coming on the terms of a Muslim ban," CAIR national communications director Ibrahim Hooper said in a phone call on Wednesday. "We're just going to see what the exact language is and see what legal recourse can be taken."
But the negative repercussions of a ban, even if it ostensibly targets just seven countries, are already clear, Hooper said. 
"On a personal level too, very many American Muslims have relatives in other countries who visit, who enter the country either to see their relatives or to go on vacation or for business ... and this is really going to have a negative impact," he said. "It sends a negative message to the Muslim world that we don't want Muslims here, that we're keeping them out."
No matter what the specific language of the order turn out to be, the tone is apparent already. "We have to be frank about it, it's only targeting Muslims," Hooper said. "No matter how they couch it, it's about Muslims."
When asked how ordinary Americans, Muslim or not, can oppose Trump's anti-Muslim orders, Hooper said the answer is clear: "Civic participation."
"I think people are beginning to wake up, that they can't just sit back and let other people run things," Hooper said. "Rights are easy to give up when they're not your rights, people need to put themselves in other people's shoes."