Kylie Jenner is bringing her pop-up shop to New York City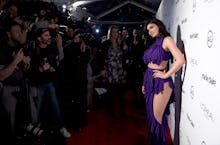 When Kylie Jenner opened her first pop-up shop in California back in December, thousands swarmed the small shop, eager to get their hands on their own Kylie lip kits or official Kylie merchandise. It was an event so overwhelming that it spawned headlines like "I survived the opening of Kylie Jenner's pop-up shop" and "I went to the Kylie pop-up shop and lived to tell the tale." 
Some people waited nine hours. It was a madhouse. 
Clearly, Jenner took note of this level of enthusiasm because now she's taking her shop on the road, and moving it to New York City. 
On Tuesday, Jenner teased her fans on Snapchat, letting them guess where the next pop-up shop would be located. 
"Are you guys ready for my next pop-up..." she wrote. 
"Can u guess where?" she asked. 
After a few minutes, she revealed the location of her fans' new holy grail. 
Although there are no details as to where in New York City this pop-up could take place, fans are already freaking the fuck out, as per usual. 
Mic will update this story as more details break.