How to get one of McDonald's 10,000 free bottles of special sauce — and 5 more food freebies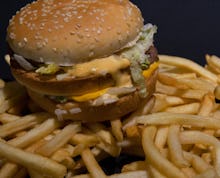 If you don't have a bottle of hot sauce to drop in your bag (swag), you might want to pick up some free special sauce this week instead: To celebrate two new Big Macs — the Grand Mac and Mac Jr. — McDonald's is giving away 10,000 bottles of its Big Mac special sauce on Thursday nationwide.
You can find your closest participating location by downloading the Big Mac Special Sauce Finder app. Then go up to a McDonald's employee and say, "there's a Big Mac for that," to get your bottle.
There are also live giveaways on Thursday on the company's Facebook, Twitter, and Instagram accounts. 
Now, it is no secret that fast food is generally bad for your health — even if you try hard to select the healthiest menu options. And McDonald's is no exception.
But you're an adult, you like free stuff and you could always drizzle your sauce over some kale or farro or whatever healthier foods make your heart sing.
And if special sauce isn't your jam?
Swing by the following establishments instead — because they've got free food giveaways going on now, too.
Shake Shack: Free ShackBurgers
Shake Shack can do one better than McDonald's — with a ShackBurger giveaway from Jan. 23 - Feb. 28.
You can download the Shake Shack app and use the code "shackappy" to order.  
Chipotle: Free guac and chips
Chipotle is also getting in on the free-stuff-for-using-their-app juggernaut, giving away guacamole and chips when you download the restaurant's game Cado Crusher: Think whack-a-mole but with guac ingredients.
After you first play the game, you'll get a coupon for the guac and chips good through Feb. 28 — but you will have to buy a meal to get the freebie.
Arby's: Free roast beef sandwich
When you sign up for Arby's coupon emails, you will get a free Roast Beef Classic sandwich with the purchase of a drink.
IHOP: Free pancakes
Breakfast fanatics can sign up for IHOP's eClub to get a free full stack of their Rooty Tooty Fresh 'N Fruity Pancakes.
You'll also get free pancakes on your birthday and each signup anniversary.
Dunkin' Donuts: Free drinks and food
Finally, here's a bonus round for those who live in the San Francisco Bay Area. As part of the grand opening of its South San Francisco branch, Dunkin' Donuts will be giving away free beverages and food samples there on Feb. 1, from 5 a.m. to 10 p.m.
The first person in line gets a $250 gift card and the first hundred get other freebies. How to pass the time while you wait in line? According to the Dunkin' site, there will be "an appearance from Dunkin' Donuts mascot Cuppy."
Sign up for The Payoff — your weekly crash course on how to live your best financial life. Additionally, for all your burning money questions, visit Mic's credit, savings, career, investing and health care hubs for more information — that pays off.