#NoBanNoWall is a heartbreaking rallying cry against Donald Trump's Muslim ban and border wall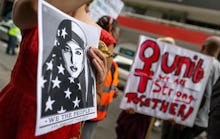 President Donald Trump is scheduled Wednesday to issue multiple executive orders on immigration that threaten to break up families and turn away refugees fleeing persecution. Now, a community of Muslims, Latinos and allies are fighting back with #NoBanNoWall.
Trump's immigration executive orders are expected to include a suspension of visas to citizens of seven majority-Muslim countries: Syria, Iran, Iraq, Libya, Somalia, Yemen and Sudan. It should be noted that the U.S. bombed five out of the seven countries listed in the ban in 2016. Trump's anticipated executive orders will also implement a temporary ban on refugees.
Zaki Barzinji and Imraan Siddiqi started #NoBanNoWall to show a collective effort against Trump's anti-Muslim and xenophobic immigration policies. Barzinji, former White House Muslim-American liaison under President Barack Obama, came up with the hashtag. Imraan Siddiqi, founder of the Hate Hurts campaign, used his social media presence to launch the hashtag on Twitter.
"There are two primary communities that are being attacked right now: Latino and Muslim," Siddiqi said to Mic in a direct message. "We have to stand in solidarity with one another, as the dehumanization that took place throughout the campaign is now coming to fruition in actual executive actions."
Here are the rallying cries of #NoBanNoWall: