This deceased 'Walking Dead' character could return for the season 7 finale — here's how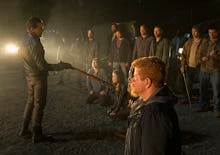 It's important not to read too much into rumors, but the latest one coming out about The Walking Dead and its disappointing seventh season makes sense in the big picture. Or, to put it another way, we have a better idea of which character is most likely to die in the second half of season seven. 
(Editor's note: Potential spoilers for The Walking Dead season seven below.) 
According to the Walking Dead fan site, the Spoiling Dead Fans — per Comicbook.com — one of Negan's victims from the brutal season seven premiere, Abraham Ford, is going to return in the season seven finale. Yes, the character literally no longer has a head, but the rumor suggests that Abraham will show up in some type of flashback or dream sequence. 
An Abraham-centric flashback would make the most sense for Sasha, who, if we're to put betting odds on who's most likely to die by the end of season seven, would be at the top of the list. 
It's not that fans want Sasha to be killed off, but with actress Sonequa Martin-Green recently cast for a lead role in CBS' new Star Trek series, it puts her longterm future on the show in question. Plus, if Sasha is going to have a last stand in the second half of season seven — one that's tied into the comic book's "All Out War" storyline — the return of her love interest, at least in some form, is a fitting sendoff. 
If we're to look at the comics for context — as some fans on Twitter already did — we can speculate that Sasha's death could mirror that of Holly: a comic book character who had a relationship with Abraham, and was later killed by Negan after she tried to kill Dwight. (In the comics, Dwight kills Abraham, rather than Negan in the show.)
Of course, the only way to know for sure is to tune into the second half of season seven — assuming you're one of the fans that haven't yet abandoned the show (we couldn't blame you).  
The Walking Dead season seven returns to AMC on Feb. 12.