The Trump family got its own glossy 'US Weekly' cover, and Twitter is not happy about it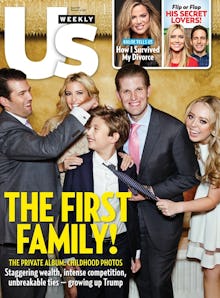 On a magazine that's usually covered in pictures of fallen reality stars and celebrity scandals, there is now a picture of Donald Trump's family. 
US Weekly revealed the cover of its latest issue on Wednesday morning featuring the President's five children: Donald Jr., Ivanka, Barron, Eric and Tiffany.
"The first family!" the cover reads. "Staggering wealth, intense competition, unbreakable ties — growing up Trump." 
Although the picture wasn't taken specifically for the magazine — it's been posted by multiple members of the Trump family on social media before — people are still finding fault with the family gaining this sort of glossy celebrity recognition. 
After all, when Malia and Sasha Obama were featured on US Weekly covers, they always appeared with a parent. 
This time with the Trump kids though, they're gaining recognition and status and fame all on their own via their father's office. 
On Twitter, many are noting that they feel like the cover is an attempt to normalize and glamorize the Trump administration's more harmful plans, like banning refugees and limiting access to abortion around the world.
And certainly, having the Trump children elevated towards celebrity status confuses the idea about not criticizing Trump's kids (notably Barron). 
Although most of the Trump kids are notably older than Sasha and Malia Obama, this is clearly a new age for celebrity magazines, who previously focused more on the first family as a whole rather than just the kids. 
Take for instance last week's cover, which featured Ivanka solo with the boastful headline: "Daughter In Chief: Ivanka's New Life."
With US Weekly apparently fully on board with treating the new president and his family the way they do the Kardashians, we have to wonder which other magazine will or won't follow suit.