H1B, H2B, E3 Visas and Green Cards: What's the difference, and how could they change under Trump?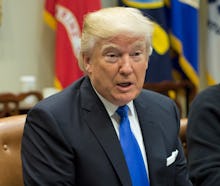 With Donald Trump now in the Oval Office, the future of the American immigration system is very much up in the air. Trump essentially centered his entire campaign around immigration, focusing not only on curbing illegal immigration and deporting undocumented people currently in the country, but on changing the way legal immigration works.
With that in mind, here's a quick look at the different statuses and visas that immigrants in the United States can have — and how this all might change as the Trump administration gets going.
H1B visa
An H1B visa is a temporary pass for skilled workers to get to the United States. It typically requires that the recipient have at least a bachelor's degree, and to have a specialized skill needed to perform the job. There is a cap on the number of H1B visas issued each year.
H2B visa
An H2B visa is for foreign workers coming into the United States to do non-agricultural seasonal work — for instance, working at resorts only open during some seasons. There is a cap of 66,000 visas issued per year.
E3 Visa
An E3 visa is a special program for workers from Australia to come to the United States. To make their way to the States from down under, workers must work in a specialty job, including positions in business, architecture and law.
Green card
A green card offers permanent residence to an immigrant. It can be issued for various reasons, including family ties, jobs or refugee status. Holders are not citizens, but are able to reside in the U.S. permanently.
How Trump could change it all
With Trump promising a complete overhaul of the immigration system, all of this could change in the next four years. Some believe that he could drastically change H1B visas, which would have a huge impact on the business community,/ Silicon Valley, especially, fills many jobs using H1Bs. There have also been reports that he plans to revamp the green card system to make it much more difficult to obtain permanent resident status.