How do executive orders work and can they be reversed?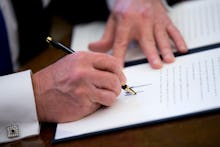 President Donald Trump has had a busy first week in the White House. 
Since his inauguration, Trump has signed multiple executive orders which have reinstated the global gag rule, weakened the Affordable Care Act, withdrew the United States from the Trans-Pacific Partnership, expedited the Dakota Access and Keystone XL pipelines, and ordered the construction of a southern border wall. On Wednesday he is expected to sign another one banning refugees from and suspending visas to seven Muslim-majority countries.
Trump has also signed papers confirming his cabinet nominations, declared his inauguration day a "national day of patriotism" and froze federal hiring. 
As Trump takes these first steps in implementing some of his most controversial campaign promises, many Americans are slamming on the brakes — can the president actually institute these policies with just a swipe of his pen?
Like most things under this new presidency, the answer is complicated.
How executive orders work
Though the Constitution makes no direct mention of executive orders, it endows the president with executive power.
Executive orders have the same effect as federal laws, but with the added benefit of bypassing Congress. However, that doesn't mean Congress can't challenge an executive order: According to the National Constitution Center, Congress can pass a new law to override any executive order. 
Likewise, Congress can push through legislation that would deny any funding necessary to implement an executive order — like say, the $3 billion (or more) you would need to complete the border wall. 
Trump, though, has the ability to veto any of these challenges to his executive power.
According to CNBC, the only other way an executive order can be overturned or reversed is with a new president. Or if — by some small, small chance — the president has a change of heart.