Will your insurance cover abortions under HR 7? Here's what you need to know.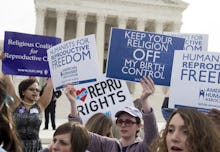 Just a few short days after American women turned out in massive numbers in a historic display of unity, the U.S. House of Representatives voted to prohibit federal dollars from being used on abortion services. 
On Jan. 24, the House passed HR 7 with a vote of 238-183, further cementing the new government's position on reproductive rights. The only exceptions to the restriction are in cases of rape, incest and endangerment of the mother's life. Under the bill, abortions may not be performed at any federally owned building or by a federal employee.
Federal funding for abortions has been prohibited since the 1970s through the Hyde Amendment; however, the amendment has been attached as a budget rider to federal appropriations bills, which means it must be renewed each year. By passing HR 7, the existing funding ban would become law, making it much harder to repeal it the future.
American women who get private health insurance will not be affected by the new bill. But those on Medicaid and Affordable Care Act plans — i.e., many who are unemployed or can't afford private plans — will be in trouble if the bill becomes law. 
Here are the health insurance plans that will be affected by HR 7:
Medicaid
Those most affected by HR 7 and the existing Hyde Amendment are those on Medicaid, the state-run health insurance plan for low-income Americans.
The restriction on Medicaid — which, according to Planned Parenthood, provides health coverage to one in five women of reproductive age (15 to 44) — also disproportionately affects women of color. According to Planned Parenthood, 30% of black women and 24% of Hispanic women use Medicaid, compared to 14% of white women.
To combat the existing ban on Medicaid funding for abortion, 17 states allow Medicaid to cover all or most medically necessary abortions with state funds.
How these state laws will fare under HR 7, however, remains unclear. The text of the bill notes that while states may choose to fund abortions through specifically state-funded programs, abortion coverage "shall not be purchased using matching funds required for a federally subsidized program, including a state's or locality's contribution of Medicaid matching funds."
Other federal insurance
Those on Medicaid aren't the only ones getting their health insurance from the federal government. The restriction, Vox noted, would also affect insurance plans that cover federal employees, military service members, those incarcerated in federal prisons and Native Americans using Indian health service facilities. 
Additionally, while states will be able to use their own funding for abortions if they choose (outside of federal programs), Washington, D.C., will not. The District of Columbia, which is a federal district rather than an independent state, has its taxation and spending controlled by the U.S. Congress, meaning that the federal funds stipulated by HR 7 include funding for the district. 
The text of the bill makes this distinction explicit, noting that the "term 'Federal Government' includes the government of the District of Columbia."
Affordable Care Act insurance
With Republican legislators currently fighting to dismantle the Affordable Care Act, it's unclear what the ACA will look like in the years ahead. But if HR 7 passes, one thing is clear: It won't include abortion coverage.
The ACA, known colloquially as Obamacare, is included in the HR 7 restriction. Americans using the ACA purchase health care plans from private insurers, whom the federal government cannot prevent from covering abortion. However, govTrack has noted that any ACA plans that cover abortions will not be eligible for the tax credits or cost-sharing subsidies that help make the ACA a more affordable insurance option.
If HR 7 becomes law, then abortions will soon become a privilege of those with the luxury to afford them. Though the bill has passed the House, however, it's still yet to be voted on in the Senate, and with Republicans holding a small majority of only 52 seats, it is possible the bill may not receive the 60 votes it needs to overcome a Democratic filibuster and become law.
That means Americans who will be affected by HR 7's passage have one thing left to do: Call your senators now.