The Donald Trump era is already terrible news for Native American activists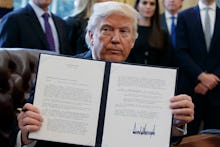 The agenda put forth by Native American protesters in 2016 is already under attack. 
Just four days after his inauguration, President Donald Trump signed executive orders to move forward with the controversial Dakota Access and Keystone XL oil pipelines, which had been tabled by the Obama administration after large protests from Native American groups. Trump's reversal sets the stage for what stands to be a long and protracted legal battle over the projects' future. In doing so, he established what many knew upon his election: that his administration would be no friend to Native American causes.
"Trump is risking our treaty rights and water supply to benefit his wealthy contributors and friends at [Dakota Access]," Dave Archambault II, chairman of the Standing Rock Sioux tribe, said in a statement about Trump's orders. "We are not opposed to energy independence. We are opposed to reckless and politically motivated development projects ... that ignore our treaty rights and risk our water."
Both projects have faced major backlash from indigenous-led dissidents, with the Dakota pipeline rallying thousands to protest camps near Cannon Ball, North Dakota, in 2016. The Keystone XL pipeline, which would have transported crude oil from Alberta, Canada, to southern Nebraska, sparked broad-based opposition for much of the last decade as well.
Both projects were halted by the Obama Administration. In November 2015, the former president rejected the Keystone pipeline, effectively ending a seven-year battle over the project. In December 2016, the United States Army Corps of Engineers denied an easement that would have let the Dakota pipeline's builders burrow it under the Missouri River.
But Trump is only one of the newly empowered opponents threatening indigenous protest in recent weeks. GOP lawmakers are baring their teeth as well. Republicans in the North Dakota legislature introduced a bill in early January that makes motorists no longer liable if they "negligently" run over, injure or kill protesters who are intentionally blocking the road. It's part of a wave of similar bills aimed at stripping the rights of nonviolent protesters that GOP lawmakers are proposing across the country.
On Jan. 4, in another crushing development, Sen. John Hoeven (R-ND) was elected chairman of the U.S. Senate Committee on Indian Affairs, the committee that studies and proposes legislation aimed at improving the lot of Native Americans. Hoeven, North Dakota's former governor, has long been a proponent of the Dakota Access Pipeline. He is also staunchly anti-protester. 
"We recommend you provide federal law enforcement resources immediately to state and local agencies in order to maintain public safety, which has been threatened by ongoing — and oftentimes violent — protest activity," Hoeven wrote of the #NoDAPL protests in a Nov. 23 letter to former President Barack Obama, which he co-authored with Rep. Kevin Cramer (R-ND), according to the Huffington Post.
Together, these developments mark the beginning of a renewed hostile era for Native American protest, which had seen a marked resurgence of late. With Trump in the White House and emboldened Republicans across the country itching to hand the United States' environmental future over to oil developers and other corporate interests, it only stands to get worse.