'The Crown' casting news: Who will 'Downton Abbey' star Matthew Goode play?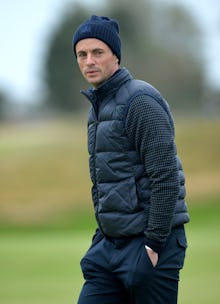 Period dramas seem to suit Matthew Goode, as the Downton Abbey actor is making his way into yet another lavish production about a British upper-crust family.
According to the U.K.'s Radio Times, Goode has been cast in season two of Netflix's hit series The Crown. The show follows Queen Elizabeth II from her early days as a young twenty-something future monarch to, if all goes to plan, the present.
But since Her Majesty, played by Golden Globe-winning actress Claire Foy, is already married to Matt Smith's Prince Philip, Goode's character will be setting his sights on another member of the royal family: Princess Margaret.
Goode will play society photographer Antony Armstrong-Jones, who eventually acquired the title of Lord Snowdon after he married Princess Margaret in 1960.
The first season of The Crown saw Vanessa Kirby's Princess Margaret enmeshed in a doomed affair with a married member of the royal staff, Captain Peter Townsend. While we know that this new romance between Goode's character and the queen's sister won't get a happy ending either (they divorced in 1978), at least we know that there won't be any shortage of drama in The Crown season two.
After all, Goode is somewhat of an expert in navigating emotional minefields wherever aristocratic ladies are concerned. His character on Downton Abbey, race-car driver Henry Talbot, was the one who finally won over the cold, Matthew Crawley-grieving Lady Mary by the series' end.