Super Bowl 2017: Early betting lines for the New England Patriots vs. Atlanta Falcons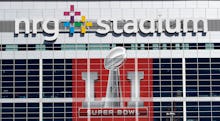 The New England Patriots and the Atlanta Falcons will face off in this year's Super Bowl after the teams soundly won the AFC and NFC championship games, respectively. While the Patriots and quarterback Tom Brady are always in the running for a Super Bowl bid, the Falcons were an unexpected powerhouse this season. As ESPN previously reported, more people bet on the Cleveland Browns reaching the Super Bowl than the Falcons — ouch. 
But now that the Falcons have actually made it to a Super Bowl — with, arguably, the best offense in the NFL — does that help the team's betting odds against the Patriots? 
According to betting site OddsShark, the oddsmakers have opened up with the Patriots as the three-point favorites in the matchup. As the site reports, if the line stays, it'll be the first time since November that the Falcons enter a game as the underdog. Against the spread, they've been 20-7 in their last 27 games. 
Per OddsShark, you can check out the 2017 Super Bowl odds below: 
New England Patriots -155Atlanta Falcons +125
The 2017 Super Bowl airs on Fox at 6:30 p.m. Eastern on Sunday, Feb. 5.