'Vox' IUD Report: IUD insertions up 19% since Donald Trump's election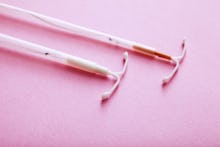 After Donald Trump won the presidential election, it didn't take long for many uterus-having people to realize that control over those uteruses was about to slip from their grasp. As such, an alarm sounded on social media: Get an IUD as soon as possible.
According to Vox, quite a few people seem to have followed through — numbers compiled by analysts at AthenaHealth show a 19% spike in IUD insertions and prescriptions between October and December 2016. There was no such increase in the final months of 2015. 
AthenaHealth looked at records from 2,500 health providers nationwide, all of which had given patients IUDs within the past 15 months. In October, these offices saw 10,850 IUD appointments; by December, that number had increased to 12,938. More people sought IUDs in Hillary Clinton-voting parts of the country than in Trump-leaning areas, but the increase was evident everywhere, according to Vox.
"Our data really complements the anecdotes," AthenaResearch vice president Josh Gray said. "I do think we're capturing a national trend."
After the election, Planned Parenthood reported a 900% surge in demand for IUDs. Sudden interest in the device can likely be attributed to its longevity: Hormonal IUDs last from three to five years, depending on the model, and copper IUDs could outlast even a two-term Trump presidency — they're good for up to 12 years. 
While they may be the most effective form of reversible contraception, IUDs have not always been the most affordable. Since 2012, the Affordable Care Act has required insurance companies to cover all FDA-approved birth control without charging copays. Without health insurance, one might pay hundreds of dollars just for the device itself, to say nothing of the cost to insert it. 
Congressional Republicans have vowed to repeal the ACA without indicating how they might replace it. Whatever that new option is, the results of Jan. 12's "vote-a-rama" suggest it wouldn't involve birth control coverage. 
For people looking to secure some uterine insurance, the Obamacare window remains open — for now.