How did Jack die on 'This Is Us'? Watch the funeral scene from episode 13.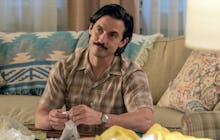 This Is Us fans are finally getting closer to the truth about Jack. It was revealed earlier this season on the NBC drama that the Pearson patriarch died when his children — Kate, Kevin and Randall — were in their teens. However, the series has been keeping a tight lip on how he died, as well as how his wife Rebecca ended up married to his best friend, Miguel. 
(Editor's note: Spoilers ahead for episode 13 of This Is Us.)
Episode 13 didn't expose any details about Jack's cause of death, but the recent installment did feature a flashback to his funeral. The funeral scene came courtesy of a breakthrough with Kate, who decided to skip gastric bypass surgery and hightail it to a weight loss camp. While working on bettering herself during a drum circle exercise, Kate began to look at what was slowly killing her beneath the surface, and, of course, that centered on her father.
Viewers got to see bits and pieces from the funeral, including the siblings holding hands, an old picture of Jack, Rebecca's crescent moon necklace and the urn containing Jack's ashes. You can watch the scene from This Is Us episode 13 below.
There are many theories circulating about Jack's death, including one that Jack died on 9/11. As Us Weekly points out, the theory is supported by Kevin and Kate's fear of planes. Kate had a near panic attack during her flight to New York when the plane hit some turbulence. Kevin also previously revealed that after Jack's death he destroyed all the model airplanes he had made with his father.
There are some flaws in that theory, though. We know that the Big Three were teenagers when their dad died. The pilot episode began with Kevin, Kate and Randall celebrating their 36th birthdays, which would have made them 21 years old in 2001, so that date doesn't add up. 
This Is Us airs on NBC Tuesdays at 9 p.m. Eastern.