Samsung Tips and Tricks: How to turn off autocorrect on Galaxy S7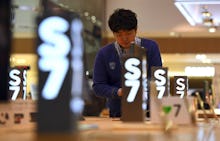 If you have had one too many embarrassing moments with autocorrect, then turning off the feature can save you some humiliation. The feature is meant to help by spell-checking your texts, but it often fails and swaps words to completely alter the meaning of a message.
The latest Galaxy S flagships — the Galaxy S7 and the Galaxy S7 Edge — may have some autocorrect issues. According to Android Authority, the stock Samsung keyboard has been reported by users to have some defects like swapping a word to something unrelated or ending sentences with the wrong punctuation.
Fortunately, autocorrect is an optional feature on smartphones and users can manually turn it off if downloading the most recent software update does not solve the problem. Alternatively, users can also download third-party keyboards.
How to turn off autocorrect on Galaxy S7
Samsung Galaxy S7 and S7 edge owners can disable autocorrect in a few simple steps:
1. Tap on Apps from the home screen of your device.
2. Scroll to Settings and tap on it.
3. Scroll to Language and input and tap on it.
4. Go to Keyboard and input preferences and select Samsung keyboard.
5. Select Auto replace.
6. Tap on the Auto replace switch to enable or disable autocorrect.