How will Trump make Mexico pay for the wall? Remittances, a border tax and other options.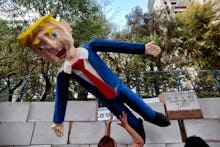 President Donald Trump signed an executive order on Wednesday to begin punishing sanctuary cities and start construction on his famed border wall with Mexico, telling ABC's David Muir that building would begin within "months." 
U.S. taxpayers will foot the bill initially as Trump will use existing federal funds to kick off the project. The main question now is how Trump plans to pay for the wall's completion over the long term.
Both Wednesday and throughout the presidential campaign, Trump said Mexico eventually would pay for the wall. 
What's still unclear is how Trump will get Mexico to pay — and the expected total cost. Trump has estimated the wall would require between $10 and $12 billion, but studies have pegged the cost as high as $25 billion.
There's a good reason for the multi-billion-dollar price tag: Not only is the U.S.-Mexico border nearly 2,000 miles long, it also includes virtually every imaginable type of terrain, from mountains and deserts to rivers. 
You can get a sense of the scale of the undertaking in the below video from the Intercept. 
Yet there are a few ways Trump could feasibly come up with the cash. To date, here are the three most likely options we know of:
Given how much Americans purchase products made in Mexico, taxing goods entering the United States at a rate of 20% could raise as much as $120 billion a year, according to the Washington Post.
Some proponents of this idea argue Mexico is unlikely to retaliate by, say, exporting fewer goods to the United States. The country's exports is a valuable source of revenue — and there's a limit to how much more Mexico can raise its existing border tax.
Then again, the country hasn't been shy in the past about slapping additional tariffs on goods like high-fructose corn syrup. In addition, a Mexican official signaled Tuesday that protectionist behavior on the part of the United States would be met with "mirror action."
2. Holding remittances hostage
A morally questionable proposal for paying for the wall has come from Trump himself, when he provided a two-page memo to the Washington Post back in 2016 in response to questions about how he would cover costs.
That proposal involved stopping payments — generally referred to as remittances — that Mexican immigrants living in the United States send home. Mexico receives about $25 billion in remittances each year, according to the Economist.
"This is money from the folks that are cleaning our houses, washing our dishes, people that are babysitting kids here as a way to help support their families back home," said José A. Quiñonez, a MacArthur "genius" grant recipient whose organization helps the undocumented get access to financial services. 
Trump has suggested using a provision of the Patriot Act giving the president the power to stop the flow of remittances, an authority that was created to help prevent terrorism.
Essentially, the goal would be to cut off this money in order to politically pressure Mexico into paying for the wall itself. 
Another possibility Trump has reportedly floated is to tax remittances. 
3. Raising travel visa and border cost fees
Other options that have been floated include charging more for visas or increasing the costs of crossing the border. 
Clearly, none of these options will be good for Mexico.
Even if Trump can convince the nation to somehow pay for the wall, there could still be further costs down the line for American taxpayers.
John Kelly, Trump's new Homeland Security secretary, said in his confirmation hearing that a "physical barrier will not do the job" and would need to be accompanied by other measures.
Sign up for The Payoff — your weekly crash course on how to live your best financial life. Additionally, for all your burning money questions, check out Mic's credit, savings, career, investing and health care hubs for more information — that pays off.