Casey Affleck's Oscar nomination isn't surprising. It's par for the course.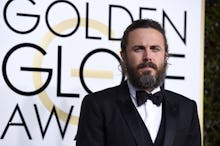 Since Manchester by the Sea started getting awards attention, there's been a steady wave of stories bringing up a publicly available fact: Casey Affleck was sued by two women who worked with him on the 2010 film I'm Still Here, a mockumentary he directed, accusing him of sexually harassing them on set. (He settled both suits out of court.) 
Mashable reported the allegations first, then the Cut, all the way to the New York Times. The backlash never became deafening — the Cut wondered why the story wouldn't "stick" — but it went along at a steady hum.
Meanwhile, Affleck won a Golden Globe (to actress Brie Larson's apparent dismay), earned fawning profiles from the entertainment news press and, as of Tuesday morning, was Oscar-nominated for his work in Kenneth Lonergan's Massachusetts drama. The news came as an extreme disappointment to some, including actress Constance Wu, who lamented the signals Affleck's nomination sends on Twitter.
"The choices an awarding committee makes increase the dignity of an award," Wu wrote. "It signifies said committee's awareness of the harmful oversights it may have unknowingly participated in the past, and the respect and dignity to learn from the past, not repeat it and not to use it as an excuse to reinforce the industry's gross and often hidden mistreatment of women."
Sadly, the Academy of Motion Picture Arts and Sciences, the voting body of the Oscars, has never learned from its past. From Roman Polanski to Woody Allen to, yes, Affleck, the organization — and most awards bodies — are doomed to repeat their mistakes, because they just don't care.
Woody Allen has been plagued by scandal for years. In 1997, he married Soon-Yi Previn, a woman 35 years his junior. She was also, more significantly, the adopted daughter of his ex-girlfriend Mia Farrow. Twenty-one years later, Farrow's other daughter, Dylan, wrote an open letter reiterating her claims that Allen abused her — claims that were already widely published, albeit not written about in Dylan Farrow's own words, in 1993.
Between 1993 and 2014, as those allegations remained public and Allen married his ex-girlfriend's daughter, Allen was nominated for nine Oscars, winning one. He was nominated for four Golden Globes, winning one, and received the Hollywood Foreign Press Association's Cecil B. DeMille lifetime achievement award. He was even nominated for five César awards, otherwise known as the French Oscars.
The claims against Allen didn't just surface in 2014. There were 24 years where they were public, and awards marched on.
Just as allegations against Allen would not stick — sound familiar? — no matter what the headlines, the same could be said for director Roman Polanski. He recently popped back into headlines when the César awards named him their president for 2017. The uproar was ferocious, leading to Polanski turning down the job.
Most peculiar were French Académie des Arts et Techniques du Cinéma president Alain Terzian's comments about the choice to offer Polanski the job. "He is a great artist of the world," Terzain said. "Polanski decided not to take the position, I don't get involved in these types of scandals. ... The only thing we need to look at is his work as an artist."
This discussion of "separating art from the artist" comes up frequently. Can we enjoy The Cosby Show in the wake of the dozens of sexual assault allegations against Bill Cosby? Can Bill Murray be a comedy icon when there are accusations of spousal abuse in his past?
It's a question that awards bodies have resoundingly and repeatedly said yes to regarding Polanski. In 1977, he raped a 13-year-old girl. He pled guilty to "unlawful sexual intercourse" and underwent a psych evaluation, but fled to Europe to avoid sentencing. 
He's since hidden out in France, which has loose extradition policies with the United States. In the meantime, he's worked with actors like Kate Winslet, Jodie Foster, Christoph Waltz and Ewan McGregor without trouble.
Most significantly, however, was Polanski's best director Oscar win in 2003. He didn't attend, of course — but the signal was clear. Academy voters, when choosing their best director that year, valued the art over the reputation of the artist.
This brings us back to 2017. There was an actor/director with previous allegations of inappropriate sexual behavior against him that completely derailed an Oscar campaign — but it wasn't Affleck. It was Birth of a Nation's Nate Parker. Your mileage may vary on why Parker's past came back to haunt him while Allen, Polanski and Affleck remained unaffected. There are myriad possible reasons, from the quality of Parker's movie to his role as director on this project, to the difference between assault and harassment to, yes, race. 
Awards bodies have consistently turned a blind eye to allegations of sexual misconduct and crime from men. This year, despite Parker's fall from grace, turned out to be no different, as Hollywood gave Affleck a pass. We can parse the whys and hows forever. We can judge the artist separate from his work — or, in Wu's case, we can challenge that notion.
But the last thing we should be is surprised. Affleck's nomination is par for the course. His win will be, too. And as Wu wrote in her statement, unless Hollywood learns from its past, it will only continue to repeat it.