Ruby Rose is fierce performing "Bitch" in this 'Lip Sync Battle' preview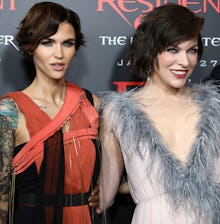 Leave it to Lip Sync Battle to bring together Resident Evil: The Final Chapter co-stars Ruby Rose and Milla Jovovich for one epic duel. 
In the clip from the upcoming episode, Ruby Rose goes all out covering the classic song "Bitch" by Meredith Brooks. And by the looks of it, she absolutely slays Jovovich. They'll have to reconvene for another Resident Evil movie to really settle this. 
Rose serves us some punk-pop realness with her black leather dress and lace-up boots. She belts out the '90s classic and Jovovich, alongside host LL Cool J and Chrissy Teigen, are obsessed with her performance. 
The Ruby Rose vs. Milla Jovovich episode of Lip Sync Battle airs on Spike on Thursday, Jan. 26 at 10:00 p.m. Eastern.