'Outlast 2' Josiah: Series fans may recognize the minor character's voice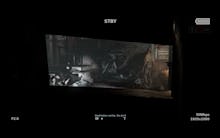 Editor's note: This article contains spoilers for Outlast 2 and is also not safe for work.
Our love affair with Southern cultists is ongoing. First there was Resident Evil 7's nightmarish Baker family, and on April 28 you'll be able to meet the parishioners of Temple Gate, Arizona in Outlast 2. A scene with a character named "Josiah" has already been described in Kotaku Australia's coverage of the game, so it's only natural that people would be curious for a little more information.
Outlast 2 Josiah: The character helps to establish stakes and move the plot along
A little after you've met and said farewell to Ethan — who's related to the murder you and your wife, Lynn, came to investigate in Temple Gate — you'll enter into a chapel, where you can pick up a document in the atrium. You should also hear the sounds of a man struggling and screaming, so head through the doors to the chapel proper. You'll see a man strapped to a giant wheel. He's got both of his eyes cut out and the word "Judas" carved into his chest. You can't really miss him.
This is Josiah. He'll beg you to kill him before Knoth returns with his spouse, a woman named Mary. Josiah says he needs you to kill him since Knoth, the cultist Prophet, will hurt Mary if you don't. There's nothing you can do for Josiah, so hide in one of the confessional booths and wait for Knoth to show up with two henchmen and Mary in tow.
From here, Knoth will torture Mary on a rack until Josiah breaks and spills the beans that Lynn is hidden in the mines with a group of heretics, at which point Knoth kills both Josiah and Mary. Yikes.
Josiah isn't a huge part of the game, but fans of the original Outlast's DLC "Whistleblower" will recognize his voice, since his voice actor Graham Cuthbertson also voiced "Whistleblower" secondary antagonist, Eddie Gluskin.
More Outlast 2 news, updates, tips and tricks
For more on the latest entry in the Outlast series, check out the rest of what Mic has to offer. Here's a guide on the Outlast series' storyline, and here's one with beginning tips and strategies. Here are some tips on beating the finding bandages and the batteries. Finally, here's our guide hub where you can find all our Outlast 2 content.