Donald Trump's approval rating is soaring — in Russia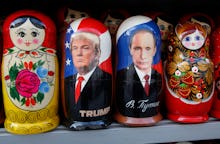 As far as United States presidents go, Donald Trump is one of the most popular ever — in Russia, that is.
On Wednesday, the Moscow Times reported that state-backed polling agency VTsIOM had found that over 70% of Russians believe the Trump administration will demonstrate acceptable leadership.
Broken up, 40% of those respondents said they had high expectations for Trump's presidency, and 31% said they believed his leadership would be "average."
By contrast, the survey mentions that the popularity of former president Barack Obama among Russians — which hovered around 56% in 2010 — took a nosedive in 2017, with just 9% of respondents approving of his job.
According to the Times, the poll was conducted among 1,800 respondents between Jan. 20 and 22. 
The survey comes amid an unprecedented thaw of U.S.-Russian relations, with Russian President Vladimir Putin most recently extending an olive branch by inviting the Trump administration to participate in peace talks regarding the ongoing Syrian civil war. 
Trump, for his part, seems similarly keen on improving the relationship between the two longtime political foes, and did not shy away from showering Putin with praise during the course of the 2016 presidential election.
"[Putin is] running his country and at least he's a leader, unlike what we have in this country," Trump said during a 2015 appearance on Morning Joe. "A lot of good things could happen with Russia if we get along with Russia and if they respect us."